Relais & Chateaux Restaurant St. Hubertus, Rosa Alpina hotel, Strada Micura de Ru, 20, 39030 San Cassiano in Badia, Italian Dolomites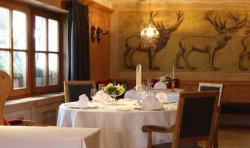 You might expect an alpine hut selling schnitzel in the Italian Dolomites, but not a two Michelin-star restaurant at the foot of those colossal peaks. Yet a fine dining establishment is exactly what we found at the whimsical family-run Relais & Chateaux Rosa Alpina Hotel & Spa in San Cassiano in the Alta Badia valley.
High calibre cuisine hardly comes as a surprise from a Relais & Chateaux member, but the Restaurant St.Hubertus managed to balance unpretentious creativity with clever twists on local rustic Ladin ingredients too.
The restaurant's amiably understated Executive Chef Norbert Niederkofler (who scooped his second Michelin-star in 2007 and has cooked at Lucknam Park) welcomed us in to his uncannily calm, organised kitchen with a rolling lineup of amuse bouches. First to hijack our senses was super-fine Prosciutto (cut fresh off the most state-of-the-art ham slicer money can buy) coiled on rounds of crisp French bread; an alarmingly hot-pink beetroot mousse; and the finale: An exquisitely refreshing salted caramel foie gras icecream served on spoons.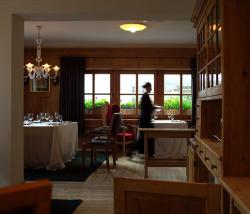 We were led from the kitchens to the quirkily rustic Restaurant St.Hubertus dining room. Its décor was typically South Tyrolean in style, with contemporary wooden walls, faux-aged mirrors and a large antelope mural at one end of the room; a nod to Niederkofler's gift for alchemizing local Italo-Austrian produce (game, ham, apples, bread and cheese featuring large in simple classic Ladin dishes).
Steaming oven-to-table homemade breads are one of my most reliable restaurant benchmarks. But every so often a bread basket proves too moreish to resist (an appetite for carbs exaccerbated by a vigorous afternoon walk in the Dolomite hills above the hotel). The ritual of drizzling the Pizzinini family's own blend of aromatic olive oil over soft doughy slices of salt & onion loaf was mesmeric. But I dropped the breadbasket like a fickle crow when the first taster course arrived: A musical-sounding 'Goat variation with green apple' – the shapes, colours and concentrated flavours of which were presented on a striated black slate. It had the eyes and tastebuds dancing a Ladin jig – the piéce de résistance being a cigarillo of creamy goat's cheese encased in a sweet tangy layer of black squid ink, beside which sat a lozenge of goat's cheese mousse infused with subtle mint and apple.
Sicilian Red Shrimps on Porcini Mushroom Royale with Dashi Fond and Black Truffles followed. Mushrooms are not my food of choice, but I tried it out of politeness. Next was an over-ample serving of Risotto (cooked for the required 26 minutes Niederkofler keenly informed us) with braised white onions in aged apple vinegar, and a slightly pungent foam of local 'Graukase' cheese. Risotto – made with pine kernels as it is here – is a signature specialty of the restaurant, and under Niederkofler's watchful eye, I found myself gulping a forkful down with a 2007 Dolomytos Kervan-riesling, which mercifully helped cut through the dish's buttery richness. Barely room for the Orvietano suckling pig and braised cheeks to follow. For a taster menu, portion sizes were definitely not on the mean side.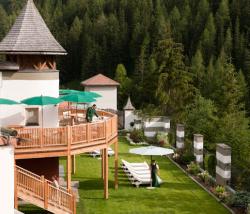 A gargantuan Tarte Tatin of Alto Adige Apples and fresh-whipped vanilla ice cream thankfully turned out to be for our whole table. The smallest nibble revealed nirvanic caramelized apple, just how tarte tatin should be. It was well matched to an aromatic Gewurztraminer Roen 2009, whose gooseberry freshness derives from a late harvest, we were told by the trendy sommelier.
Generous dishes with big flavours to match – the Restaurant St.Hubertus is worth off-pisting for after summer alpine trekking or winter skiing in the dramatic peaks of the South Tyrol. Just make sure you don't dent the breadbasket first.
• For updated information on culinary events in the Alta Badia region, visit www.altabadia.org ; www.relais&chateaux.com ; www.rosalpina.it