Shayona Restaurant, 54-62 Meadow Garth (off Brentfield Rd), Neasden NW10 8HD, shayonarestaurants.com
The incongruous splendour of the Neasden temple rising up from a nondescript London street is a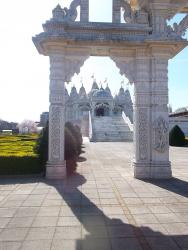 sight to behold. Consecrated in 1995, the building covers 1.5 acres and is the largest outside India. By sheer serendipity, we're here on a thoroughly auspicious day- it's the birthday of both the temple's namesake Swaminarayan, and Lord Rama. Celebration is in the air, along with the odd tantalising whiff from the mandir's Shayona restaurant just across the bustling car park.
We've made quite a pilgrimage ourselves this morning, so it seems only sensible to get our hungry bodies fed before seeking spiritual nourishment. And one o'clock is definitely the auspicious time according to rumbling stomachs. Behind the attached superstore and cafe, the restaurant brims with tables full of huge multi-generational families and even huger multi-dish meals.
Joining us for lunch- well, after a fashion, is Krishna- one of Shayona's founders and an all-round top bloke. He's fasting today, but we mustn't let that stop us- in fact, he's insistent the two of us consume his share, too. A relatively modest order- Bombay bhel, a Rajwada thali and a masala dosa- quickly swells as he commands the kitchen staff bring aloo bhajia, spicy okra fries, chilli naan, a half-portion of mango lassi, just a little bit, a taste, please…
And I'm always eager to please. Despite the vast quantity, the food goes down a treat. Tiny crisp pani puris are served atop a thimbleful of spicy mint water and gulped in one mouthful- shots for the sober. Bajri rotla, a millet bread consumed on 'ekadasi' fast days, is earthy and insanely moreish. Krishna insists it's so healthful one can consume it with gay abandon. I let myself be convinced as I snaffle another piece.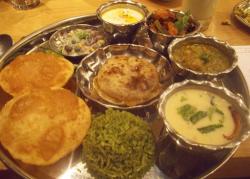 Waiting on us is Tej, a Sikh. Krishna notes that Shayona strives to be inclusive and cross cultural barriers- and having Tej there helps symbolise this ethos. The fact he's also a great host and jovial chap helps too. He presents my thali with a flourish- the tray groaning with dishes including okra and potatoes, kadhi, mixed beans and divine sweet lentil-filled puran polis.
The menu follows Hindu Sattvic principles, is free from onion and garlic, and the food is absolutely impossible to criticize. The restaurant is elegantly classy, with everything you see planned by Indian architects and interior designers and imported direct from the subcontinent. Shayona's chefs and staff are volunteers, and all are unequivocally devoted to upholding the reputation of BAPS- the organisation behind the temple it supports.
Krishna is justifiably proud as he shares all this with us, telling us how the company grew from the ideas of a small youth movement 25 years ago, blossoming from food factory to fully-fledged restaurant three years ago. Casually, he lets slip that, along with his day job, temple activities and overseeing the restaurant, he happens to be climbing Kilamanjaro with his entire family in August. Blimey. His admirable motivation is to raise funds for a remote school near Mumbai. We're fast approaching satiation, but this is food worthy of real thought.
Once we've digested Krishna's altruism, he coaxes us to the sweet counter, plying us with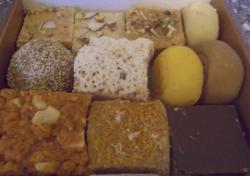 honeycomb-like mehsoor kaju and chocolate bharfi. He also shows us his own favourite way to treat himself- carrot halwa and chickpea-flour fudge warmed up slightly and served with ice cream. Our growing discomfiture is dismissed with a brisk instruction to 'find room in a different compartment!' and somehow, rose-flavoured faluda, gulab jamun and rasmalai do indeed seek out a tiny nook.
Physical hunger displaced, we enter the mandir. Unwittingly, our entrance coincides with the bathing of the deity- and snaking single-sex queues line the corridors. Each idol is venerated with the presentation of offerings of food, which is then declared 'prasadam' and distributed amongst the faithful. In the year 2000, a grand total of 1247 dishes were offered as 'Annakut'- a 'food mountain'- to mark the New Year.
Today, this takes the form of sweetmeats of every colour, shape and flavour- certain to appease even the most gastronomic god. The inscribed birthday cake set before each of the mind-blowing idols could almost be comical, but for the ever-present, palpable air of worship. The deities are 'at rest' for a given period each day, but happily, they're wide awake for our visit, worthy of appreciation, if not adulation, by even the most secular.
The mandir interior is surreal in its intricate beauty, juxtaposed with the gaudy, gorgeous idols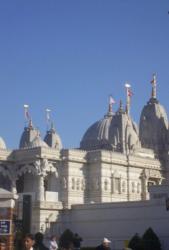 resplendent in finery which is refreshed daily. Each of the building's 26,300 pieces of stone is an Indian import, and the pure white, carved stonework creates a solid foundation for a structure where use of metal is forbidden. It's a place of awe, a place of community, a place of welcome- no-one bats an eyelid at the hapless newbies struggling out of their shoes and forgetting to declare car keys at the metal detector.
We leave with sachets of some alchemical herb, spice, and sugar prasadam and an uncommon sense of reverence for a fascinating enterprise benefitting followers, the underprivileged, discerning diners and just about anyone else who cares to visit and experience a first rate set-up. Seeing Shayona's profits at work is a true feast for all the senses, in every sense. So hurry, Krishna, up that mountain- and I'll hurry back to Neasden, post haste.
BAPS Shri Swaminarayan Mandir, 105-19 Brentfield Rd, Neasden, NW10 8LD, www.mandir.org, www.swaminarayan.org