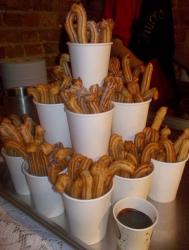 A clear blue sky, shirt sleeves and a well-poured pint of Dorset Nectar are hardly conducive to the Great Indoors. But that indeed is where I find myself, struggling to be heard by my mate over the thumping Afrobeat constrained and concentrated by the bare brick interior of Village Underground in Shoreditch.
Whatever your feelings about Lonely Planet, there's no arguing with the fact they know their grub. Fitting, then, that they should herald the arrival of the new Street Food guide with a two-day extravaganza of the world's tastiest snackerels, Your own arrival, meanwhile, is heralded with the issue of a dark-blue passport. The only advice? Hit the ground eating.
It would be rude not to. The problem is, where to begin? We opt to roughly follow a mains/desserts structure, which narrows the choice slightly. It's a good job I'm running on empty, because a serving of Turkish gozleme comprises two generous wedges of the tissue-thin spinach pancake, mounded with salad, chilli sauce and cacik. Along with the pint, that'd do me in itself.
But a inconspicuous brown cardboard box stuffed with earthily spiced, pulled Jerk pork is pressed into my hands- and stuffed mouthwards by hand. As Rummanco's sign reads- 'fingers before forks'. Or chopsticks, as we move onto Khao Soi– slurpy, crispy, spicy, creamy 'comfort noodle soup' from Chiang Mai, and the fragrant Malay dish of banana-leaf wrapped fish paste known by the pleasingly repetitive moniker, 'otak otak'.
Our next implement is the humble toothpick, used to spear takoyaki– little balls of octopus, spring onion and ginger, doused in thick brown sauce and the sweet mayo so beloved of the Japanese. Bhel puri is served up in a tall paper cone- a more substantial, flavour-rammed rendition than is commonplace with Brit takes on Mumbai's most moreish mixture.
We stick with the subcontinent for sweets- squiggly spirals of fresh jalebi fished from boiling fat and dunked into syrup. A hot sticky crunch of the finest form. We squiggle our increasingly protruding stomachs over to Iberica next, for cups crammed with sugar-and-cinnamon churros dunked copiously in thick, bittersweet chocolate.
And we're spent. It's tiring touring the globe in a single evening, so we find a corner to collapse in

and watch the throng merrily a-stuffin'. A disarming young magician approaches, sensing a captive audience, and passes a ridiculous amount of time astounding us with a simple deck of cards and a large dose of skilled trickery. In return, we astound him by sharing a final nosh on juane– a Peruvian mashup of rice, spice and pretty much all things nice.
A crash course in global gourmandising certain to sling any crash diet resoundingly out of the window. A buzzing atmosphere not-so-removed from the very markets the festival aims to emulate. An event decent enough to drag a crowd away from the almost essential post-work sun-soaked libation. I thoroughly hope they decide to renew the passports next year- I'm there.
Lonely Planet's 'The World's Best Street Food' is published by Lonely Planet, RRP £14.99