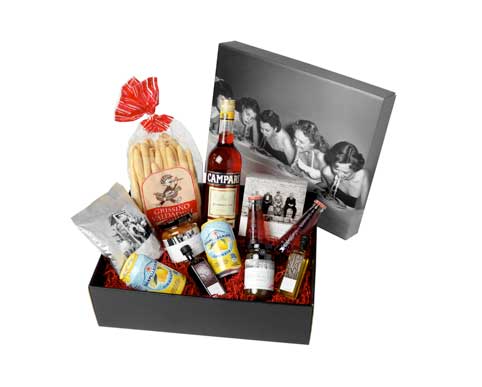 From the cafe culture of Rome's piazzas to the sun-drenched terraces of Sicily….the Italians certainly know how to eat and drink in style…
This summer, iconic brand Campari is bringing the full flavour of Italian entertaining alive for Brits through a collaboration with shopping mecca Harvey Nichols. Foodie fans nationwide can enjoy a series of in-store events and pick up a lip-smacking summer hamper.
Since the 19th century meal-times have begun with The Aperitivo – a petite and refreshing drink that 'opens' the palate, perfect to enjoy with or before food. Traditionally celebrated between 6pm and 7.30pm – post work and pre dinner – this culinary ritual involved a cocktail or two accompanied by fresh and light tapas-style eating….
The events
Harvey Nichols summer terraces and cafés will host to screenings of the iconic Italian film Cinema Paradiso and the classic 1969 Italian Job – accompanied by a Campari Aperitivo and classic Italian antipasti. Customers will be able to experience Aperitivo time, and enjoy these iconic Italian-inspired classic and enduring films.
3 July, 7.15pm – Second Floor, Manchester: 0161 828 8898
6 July, 6.30pm – Fifth Floor, Knightsbridge: 020 7235 5250
7 July, 6.30pm – Second Floor, Bristol: 0117 916 8898
9 July, 6.30pm – First Floor, Dublin: 353 1 291 0488
9 July, 6.30pm – Forth Floor, Edinburgh: 0131 524 8350
9 July, 6.30pm – Prism Bar, London: 020 7256 3875
10 July, 6.30pm – Fourth Floor, Leeds: 0113 204 8000
Tickets are £20 for two, including the film, Campari Aperitivos and a selection of antipasti.
The hamper
Or if you'd rather hit the heath or take a sail up to Little Venice…..pick up a hamper from theHarvey Nichols food hall (or buy online) for £50 and enjoy a luxurious picnic with friends. Also a great gift for gastro-loving friends and family.
£50 Campari Aperitivo Picnic Hamper – serves 2 and includes:
1x jar of Harvey Nichols chargrilled vegetables, 370ml
1x packet of Peperoni Fritti, 25g
1x Grissini, 300g
1x Spiced black olive paste, 180g
1x Mini olive oil lemon, 55ml
1x Aged balsamic, 55ml
1x Cantucci di Siena biscuits, 250g
1x Campari, 70cl
2x Campari Sodas
2x San Pellegrino La Limonata, 330ml