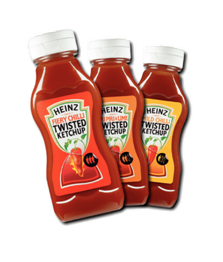 Heinz Tomato Ketchup is turning up the heat this summer with the launch of Heinz Twisted Ketchup, a new spicy tomato ketchup range.
Blending the same great taste of Heinz Tomato Ketchup with exciting, spicier flavours, the three new sauces – Mild Chilli, Piri Piri & Lime and Fiery Chilli are perfect for those looking to give their favourite foods a unique twist.
Each distinct sauce offers a different level of spiciness, so there's ketchup to suit all taste buds. To make it easy for you, Heinz has even put chilli indicators and different colours on the bottle to highlight the level of heat of each variety – just choose how hot you want to go and mix things up at meal times!
For those looking to give their food a gentle kick Heinz Twisted Ketchup Mild Chilli delivers a delicate Mexican flavour and is great with everything from classic chips to burgers or fajitas.
If you fancy being a bit more daring then why not give Heinz Twisted Ketchup Piri Piri & Lime a twirl. Packed with a unique twist of lime, it's delicious served with grilled chicken, fish or prawns and will be sure to spice up summer BBQs.
For those who really want to turn things on their head then Heinz Twisted Ketchup Fiery Chilli is the one for you. Put a dollop in your spaghetti bolognese, shepherd's pie or lasagna to give it some extra punch or serve alongside your favourite grilled meats.
There's no doubt we Brits like to spice up our favourite dishes. Our developing taste for hot stuff is apparent through the nation's favourite dish – a nice curry! Heinz Twisted Ketchups have been specially developed to match these food and flavour trends, using Heinz's trusted expertise to combine heat with real flavour.