It's got the look, it's got the texture and good golly it almost has the taste. But it's 100% plant based.

As someone who is 80% vegetarian ( I am not giving up on charcuterie, soz) one of the things I often miss is something to chew on.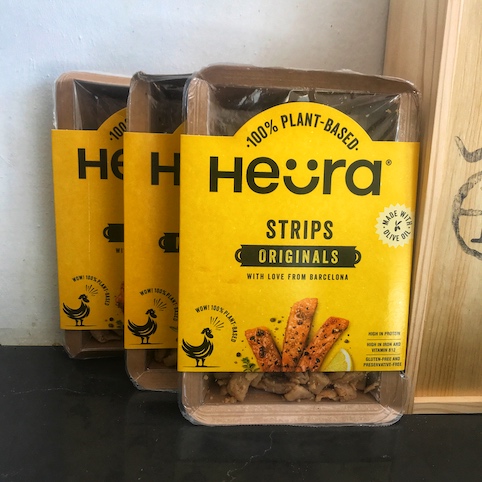 Heura call themselves the new generation of plant based protein, and they certainly walk the talk with cheerful bright yellow packs that are a long way from the earnest earthy hues you often find in health food stores. Think trainers, not sandals.
And that's not all that surprising as Heura comes from Barcelona, where sunshine is almost constant and the Mediterranean is a part of daily life.
I'm not alone. Most veggies that I know lament the loss of texture in their food, even while they rave over the new and vibrant flavours eating veggie brings.

So here's an answer.

The chicken chunks and strips are made from water and soy protein concentrate plus olive oil, and flavoured with some salt and spices. The soy is non GMO and comes from sources not involved in deforestation.

The best way to treat them is to fry them before adding to dishes last minute, this adds a bit of colour and of course warms them up.

We tried them in a Thai Green Curry and the result was very good, the chunks taking up the flavours of the sauce perfectly.

Texture wise it was like slightly undercooked chicken breast, but I think that could be solved by faster, hotter frying.

If you're looking to cut down on your meat and have a responsible and satisfying alternative that isn't all hair shirt and boring, Heuras has what you're looking for.

www.heurafoods.com


We have some recipes to try, too.

Tuck into a slice of Garden Pizza, featuring handmade dough topped with Heura's 'chicken chunks', fresh cherry tomatoes, salty black olives and creamy vegan cheese.
Or try out Heura's healthy twist on the ultimate Spanish supper, their Brown Rice Paella, which uses their 'chicken', plenty of vegetables and a blend of aromatic herbs.
If you're looking for something simple yet delicious, whip up a bowl of Kale & 'Chicken' Pasta. A classic favourite which everyone will enjoy.