Take Meat Out of your diet this Saturday 20th March 
In tests Heura has a juicy, meaty texture so convincing that 99% of consumers think they're eating meat.

These recipes from Heura not only taste good but are actually good for you and your planet. Heura brings a taste of the Mediterranean to their products by using olive oil and keeping their ingredients list short, meaning 60% less saturated fat than regular chicken.
Try Garden Pizza, featuring handmade dough topped with Heura's 'chicken chunks', fresh cherry tomatoes, salty black olives and creamy vegan cheese.
Or try out Heura's healthy twist on a Spanish supper with Brown Rice Paella, which uses their 'chicken', plenty of vegetables and a blend of aromatic herbs.
If you're looking for something simple try a bowl of Kale & 'Chicken' Pasta.
Meat Out Day is a day dedicated to taking meat out of your diet to raise awareness for the impact of the agricultural industry on animals, our health and the planet.

Garden Pizza
Ingredients: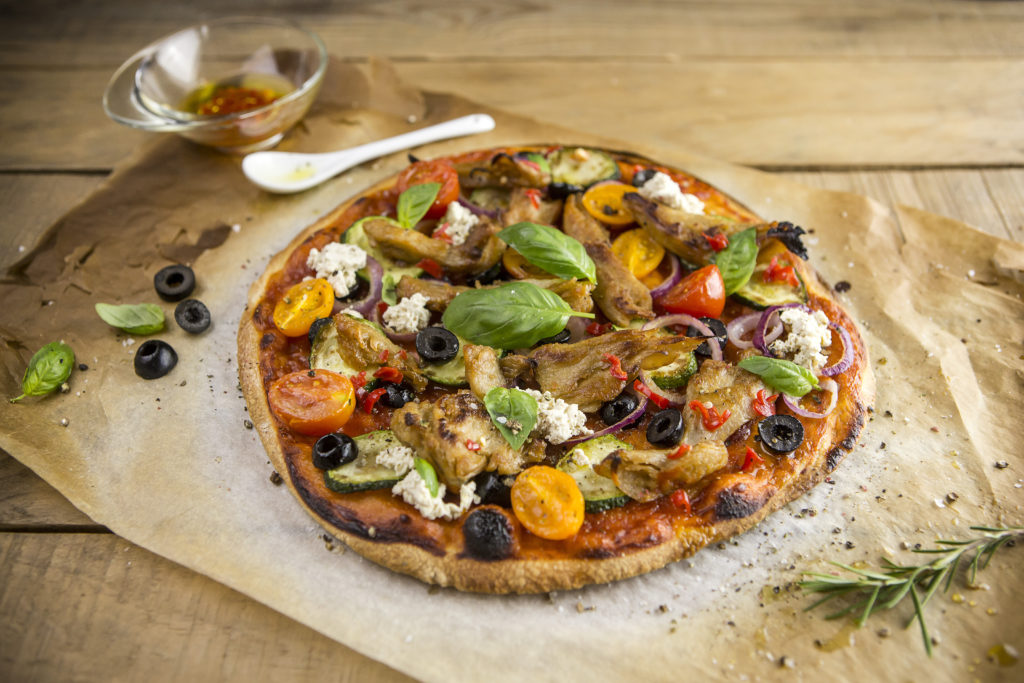 90 g Heura® Original Chunks
1 courgette, cut into rounds
150ml tomato sauce
4 cherry tomatoes, halved
1 red onion, sliced
60 g vegan cheese
10 black olives, thinly sliced
20 g fresh oregano
1 chilli pepper, chopped
Chilli oil (to taste)
Method:
Prepare the dough:
Put the flour in a large bowl and add a pinch of salt.
Make a hole in the center; add water and olive oil.
Knead the mixture until you get an even ball of dough (you will notice it no longer sticks to your hands).
Let it sit for 5 minutes.
Divide the resulting dough into two parts. If you prefer smaller pizzas, you can divide it into four.
Sprinkle some flour on a flat surface to prevent the dough from sticking. Place a piece of the dough on top and flatten with a rolling pin until thin (or thicker, if you prefer) and even.
Place the dough on a tray lined with baking paper.
Prepare the pizza:
Fry the Heura® chunks for 5 minutes until brown and set aside.
Spread tomato sauce on the dough as a base and then add vegetables and other toppings.
Add some vegan cheese and fresh oregano.
Heat the oven to 180ºC and bake the pizza for about 8 to12 minutes. When there are 1-2 minutes left, open the oven and add the Heura® chunks on top.
If you like spice, add a splash of chilli oil and some chopped chilli peppers.

Brown Rice Paella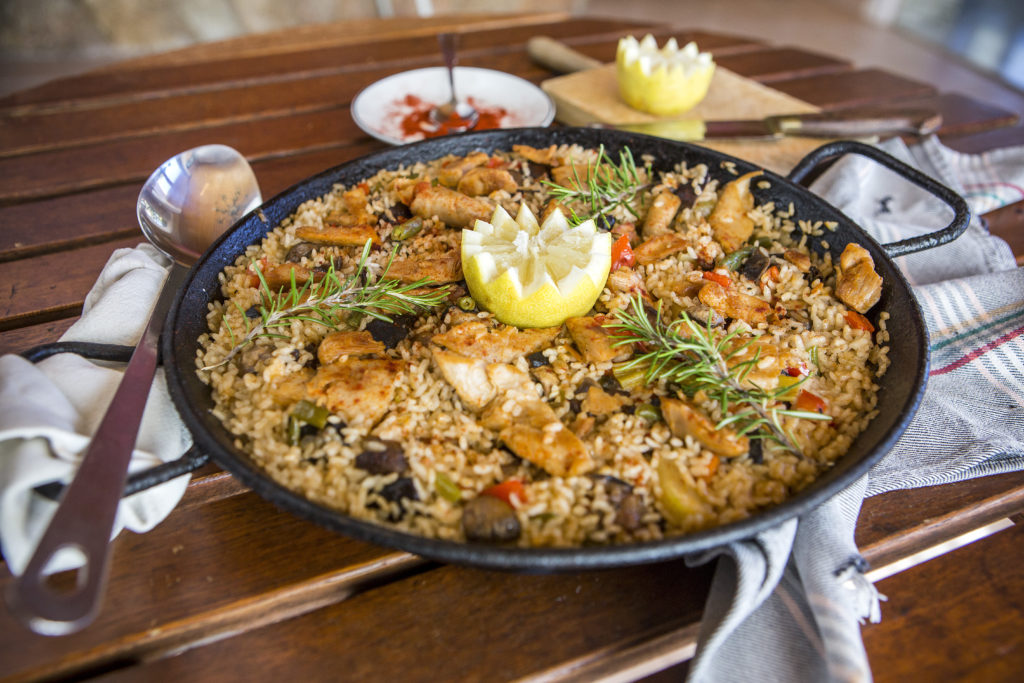 Ingredients:
180g Heura® Original Chunks
400g brown rice
60g green beans
1 red pepper
80g mushrooms
2 leaves of chard
2 cloves of garlic
750ml vegetable stock
1/2 lemon
1 sprig of rosemary
1 tbsp paprika
Method:
Wash the brown rice with plenty of water.
Mince the garlic and slowly brown it in a paella pan or frying pan with olive oil.
When the garlic is golden brown, add the finely chopped onion, sliced chard, green beans, red pepper and mushrooms. Add a pinch of salt, black pepper and paprika.
Add the rice and mix well. Then pour in the vegetable stock. If the mixture is too dry, add a bit more stock or water.
Let it simmer until the liquid evaporates. Reduce the heat to a minimum, cover and let cook for about 15 minutes, until the rice absorbs all the water.
While the rice is cooking, put the Heura® chunks in a skillet with a splash of very hot olive oil and brown for 5 minutes.
Once the rice is ready, turn off the heat and add the Heura® chunks to the paella.
Garnish with a squeeze of lemon juice and a sprig of rosemary.


Kale & 'Chicken' Pasta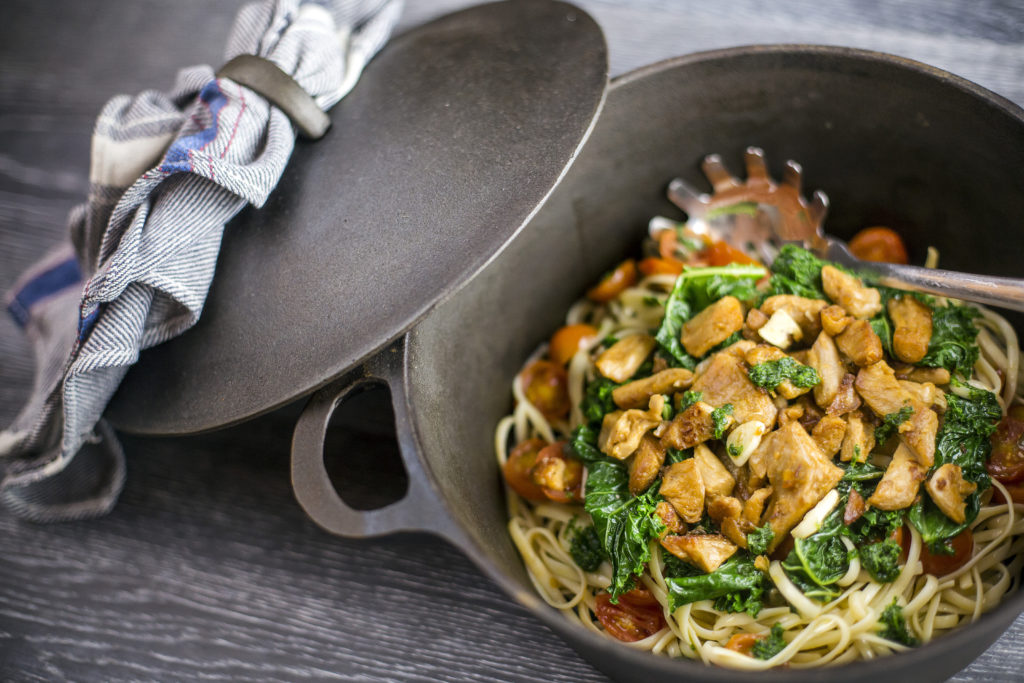 Ingredients:
180g Heura® Mediterranean Chunks
100g kale
10 to 12 cherry tomatoes, halved
1 clove of garlic
400g pasta
1 Tbsp sesame seeds
Method:
Cook the pasta and set aside for later.
Chop the kale and garlic.
Pour a splash of olive oil and half of the garlic in a pan and brown the Heura® chunks for 5 minutes. Remove and set aside on a separate plate.
Heat some more oil in the pan, then add the kale and the rest of the garlic. Mix well and keep stirring so it doesn't stick to the pan.
When the kale is golden brown, lower the heat and add the halved cherry tomatoes.
Add the Heura® chunks back in to heat them up.
Finally, combine the pasta with the veggies and Heura® mix.
As a final touch, add sesame seeds on top.
Recipe created by Heura®. More information and recipes can be found at http://www.heurafoods.com. 
Instagram: @heurafoods or @heurafoods.eng