Ok so the sun has put his hat back on the peg for now, but he'll be back and it will be time for some lovely ice-cream. We've scooped some of the best and sacriligously stuck a 99 in them
Antonio Federici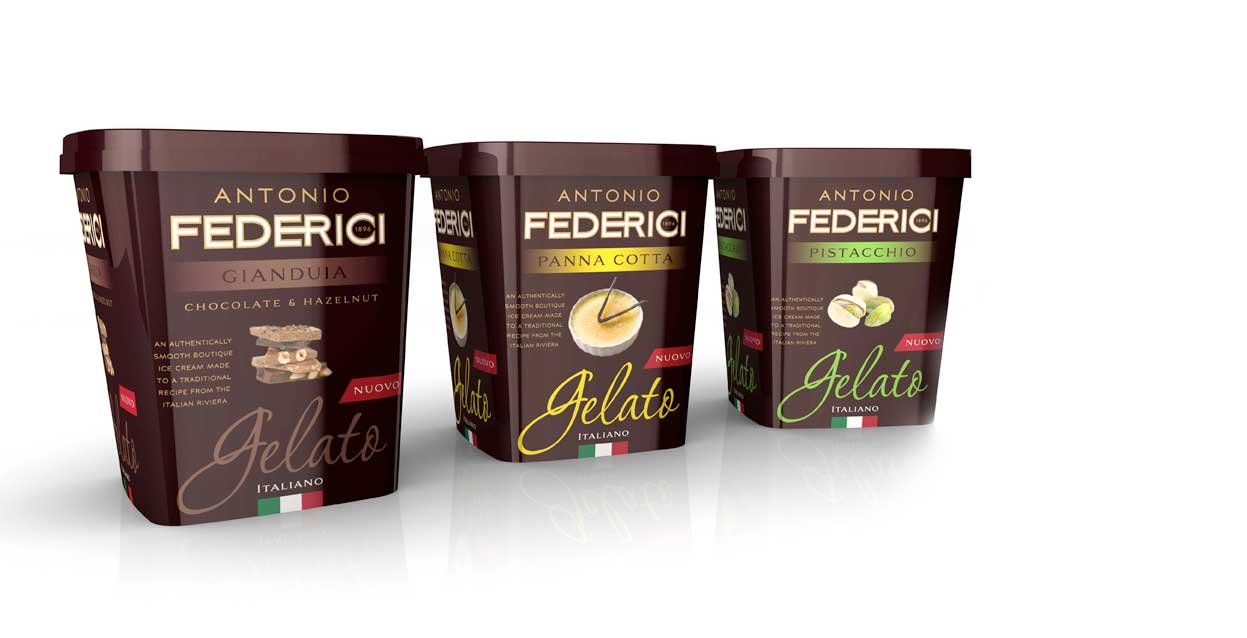 Luxury ice cream brand Antonio Federici's, has three new melt-in-the-mouth luxury flavours inspired by the Italian connoisseur Antonio Federici himself.
Federici dedicated his life to his love of gelato – he was still whipping his own ice cream aged 102 and fell off his bike delivering it aged 96. And now, more than 100 years after the grandfather of Italian ice-cream created the first perfect scoop, his grandsons Frank and Philip have worked to recreate for the market the sumptuous Pistacchio, Panna Cotta and Gianduia (chocolate and hazelnut) gelati they loved as children.
Each scoop is made to the traditional family recipe and blended in time honoured Italian tradition using fresh double cream and the finest ingredients. The Federici family hope the range will provide consumers with an exciting alternative to conventional American ice creams and other brands produced by multi-national corporations.
Each flavour has a sensual smooth and chewy texture, which prolongs the experience that makes Antonio Federici ice-cream uniquely different. Gianduia is an indulgent blend of chocolate, hazelnuts and fresh double cream. It is finished off with soft coca and buttery notes. Panna Cotta is the traditional after-dinner desert. It is made with fresh double cream and has vanilla overtones with a hint of caramel. Pistacchio is an exquisite blend of the finest Italian pistachios, rich double cream and has a smooth nutty finish.
The trio of flavours, first created by Federici in 1896 in mountains close to the Italian Riviera and the hip resorts of Portofino and Rapallo, are now set to transform the way UK consumers feel about ice-cream, with many already describing it as 'the best ice cream they have ever tasted'.
The three 'boutique' flavours from Antonio Federici are on sale for £3.99 exclusively at 315 Sainsbury stores across the UK carrying the Federici promise; every batch is personally signed off by Frank or Philip.
Grandson Frank, says: "Gelato is Italian for Ice Cream and every tub of Federici's has a little of La Doce Vita in every scoop. We are proud to recreate these gelati for a new generation of ice cream aficionados."
Frank and Philip are already developing the range to include Summer sorbettos and indulgent Winter creams.
Yeo Valley Organic's NEW Chocolate Ice Cream
Yeo Valley Organic's NEW Classic Chocolate Ice Cream is made using the finest organic cream, wholemilk and chocolate to give a sumptuous, creamy chocolate taste to create the ultimate indulgence.
The intense chocolate flavour is the perfect wicked treat enjoyed either on it's own or used to create a variety of desserts; try topped with fresh raspberries, mixed with crushed meringues for a sinfully chocolate Eton Mess or drizzle with warm white chocolate sauce and allow to harden in the freezer for a stunning dessert.
Or why not serve with the luscious and creamy flavour of Yeo Valley Organic's Vanilla Ice Cream, a simple blend of rich, creamy dairy ice cream and natural vanilla that tastes heavenly served on its own on a warm summers day, or try topped with freshly picked English strawberries and mint for a quintessentially English dessert.
For those of us who are watching our waistlines for summer with the prospect of baring all on the beach, opt for Yeo Valley Organic's Strawberry Frozen Yogurt that has all the creaminess of ice cream, but with less than 4% fat, it's an indulgence you can feel good about. Plump strawberries are mixed with thick organic yogurt to create a sumptuous frozen dessert that refreshes and satisfies the appetite, and best of all, leaves your dieting conscience guilt free! Try topped with fresh fruit or with crushed amaretti biscuits for a dessert with an added bit of crunch.
What's more, the delicious taste of the Yeo Valley Organic Ice Cream and Frozen Yogurt range comes in family sized one-litre tubs making them great value for money. Yeo Valley Organic Classic Chocolate Ice Cream is available from Waitrose and ASDA supermarkets, RRP from £3.79 for a 1 litre tub. Yeo Valley Organic Vanilla Ice Cream and Strawberry Frozen Yogurt are available from leading supermarkets; RRP £3.79 for a 1 litre tub.
Brymor Delicious ice cteam fresh from the Yorkshire Dales
Brymor Ice-cream has introduced an abundance of five great tasting traditional and innovative flavours guaranteed to get your Summer off to a delicious start! Produced using the finest quality milk from the happy pedigree Guernsey cows down at High Jervaulx Farm who graze on the lush pastures of the Yorkshire Dales, these scrumptious creamy flavours include:
Vanilla – simple and sophisticated, vanilla has always topped the ice cream menu!
Clotted Cream – a velvety texture combined with the richness of clotted cream
Rum & Raisin – raisins soaked in xxx Rum gives this classic a real kick
Ginger – creamy and rich with a lingering hint of spicy ginger that definitely ups the intrigue
Mint Choc Chip – refreshing fresh mint taste complemented with mouthfuls of chocolate chip
Strawberry – the fruity sweet taste of summer strawberries
High Jervaulx Farm is one of Britain's few genuine on-farm manufacturers where only the milk produced on the farm is used in the careful production of the ice cream.
 Every day the family cows, who have each been given a special name and treated with kindness, produce over 500 gallons – a great sign of a happy, healthy and contented team!
Established in 1984 by Brian and Brenda Moore who moved their family and cows to High Jervaulx Farm close to the beautiful abbey where Wensleydale cheese was first produced, Brymor ice-cream is very much a 'family affair'.
Now run by their son Rob (head of the herd), a hands-on, quality approach is integral to the stringent production process from sourcing to delivery. This ensures only first class premium ice-cream is produced. So much so, families have been enjoying the unique taste of Brymor ice-cream for decades either by visiting their legendary ice-cream parlour at the Farm or purchasing it direct from retailer stores.
All ice-cream is available in 500ml tubs priced £2.85.
For your nearest retailer visit www.abmoore.co.uk
Cool Facts – How to Get the Perfect Scoop:
• 'Temper' ice cream before you scoop – leave it at room temperature for 8-10 minutes before serving. Return ice-cream to the freezer immediately after it has been served to minimize the formation of ice crystals.
• Serve ice-cream in chilled bowls, preferably glass. Not only is the frosted bowl refreshing to look at, but the ice-cream will retain its shape longer.
• Scooping ice-cream: A variation on a theme. Try this! Have a large Pyrex measuring cup or other heat proof container filled with just boiling water standing by. Dip the metal scoop into the hot water, let it heat up for a moment, and then DRY the scoop on a towel. Quickly drag the hot scoop across the ice cream creating tight rolls of the divine stuff. Do not smash the ice cream with the scoop. Think ribbons, not chunks. Repeat the process for each serving.
• To store opened ice-cream, first place a piece of plastic wrap on the surface and smooth it down lightly with your fingers. Then close the lid securely (use a rubber band if you have to) and return to the depths of your freezer.