Jamie Oliver makes it all look so easy doesn't he? Well I've tried and it's not. Bread making is all about effort and time and I have neither of those two things. B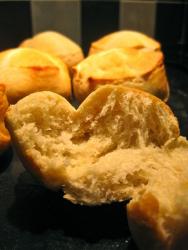 ut I do want steaming dinner rolls bought fresh from the oven to my dinner table. Lucky for me this modern life provides for such time-poor, bread-hungry people like me searching for instant gratification. I've been busy testing out the latest samples of the JUS-ROL™ Bake-it-Fresh line of bake at home breads.
The warm, soft buns I load with butter aren't the only good thing to come out of this relationship between me and JUS-ROL™. I have discovered a slightly embarassing addiction to opening the packaging the bread dough comes in. To keep the dough fresh, it is stored in hermetically sealed tubes. To make it easy to open these contraptions, there is a red tab. You peel back the red tab and like magic the tube bursts open and you have a log of proven bread dough in your hands. A little fiddly to free from its shackles, but once you get the dough out you just pop in on a tray and follow the instructions on the pack.
For the garlic pizza bread, you break the dough apart at the perforated edges – it's amazing the things they can do with dough these days. I suggest seperating the pieces up before you spread with the garlic butter to prevent an acute attack of garlic butter-fingers. Or perhaps you might have to slice a cross into a dinner roll or a slash a rustic loaf and sprinkle it with semolina flour. It's these little touches that make it all a bit special and fun.
The bread itself is light and fluffy and went down a treat with my family. The Bake It Fresh range is so easy it is almost easier than picking up a dozen dinner rolls from the shop, except this way you get hot, crusty, freshly baked bread.
The JUS-ROL™ Bake-it-Fresh range is available from Sainsbury's, 6 Pain au Chocolat (also available from Asda and Morrisons) RRP £2.10, 6 Crusty White Rolls RRP £1.50, 2 Thin Crust Pizza Bases & Tomato Sauce RRP £2.65. Garlic Pizza Bread RRP £2.65, White Rustic Loaf RRP £2.65 and 6 Croissants RRP 1.49 (also available from Asda, Ocado, Waitrose and Tesco).