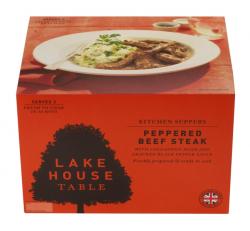 The Lake House Table Kitchen Supper range was recently launched and is currently available in selected Waitrose stores and through Ocado. The Lake House target customers are those professional couples among us. Those who don't want to spend an eternity in the kitchen once they've got home from a possibly stressful day at work, yet want to put something on the table for their loved one that they at least have had a hand in cooking.
At present there are four products in the Lake House Table range: the peppered beef steak, two chicken dishes and pork whorlers (sausage spirals), all of which can be cooked and on the table within 10 minutes of taking the package out of the fridge. As I said the idea is that the busy cook of the family can get the dish on the table without spending inordinate amounts of time on food prep and cooking. All four of the dishes currently available are similarly constructed; the meat, which is raw, a cooked (or part cooked) potato element, and a prepared sauce to add to the dish once cooked or during the cooking process.
We sampled two of the Lake House Table range, the peppered beef steak with colcannon mash and cracked black pepper sauce and the chicken with white wine and mushroom sauce, red onion and garlic potatoes. And true to their claims, each dish was cooked and plated up ready to eat within ten minutes. The steak dish was tasty, although it was quite peppery, what with the steak having been liberally sprinkled with crushed black pepper and the sauce. The steak itself was a good piece of meat, though care needs to be taken not to overcook it, the bits that were less cooked were definitely more tender, the colcannon mash was perfectly good and had nice texture not least from some cabbage within it. If you like a bit of peppery heat in your food this will absolutely suit you. The chicken with white wine and mushroom sauce was less challenging, a much milder dish altogether although the sauce brought its constituent parts together well and overall gave the dish some good depth of flavour.
If I had a criticism about this range of dishes, it is that they really do need an additional vegetable. Meat and potato is fine, but if you are to have some balance in your meal there does need to be at least one or two of your 'five a day' this not only from the perspective of healthy diet, the dishes although a reasonable size would not otherwise satisfy two good appetites, so this is something to bear in mind when selecting one of the Lake House Table products. I fully understand why this element hasn't been included, part cooked green vegetable wouldn't have the same seven day shelf life as the other elements of the dish. And, it has to be said, the need for additional veg or salad is recognised on the packaging. That said, the packs are reasonably priced at £7.99 for the peppered steak dish and the others all at £6.99, about the same as you'd pay for a portion of mains from the local Chinese or Indian takeaway/delivery service. Throwing some frozen peas or prepared green veg into a pot and cooking them is not a major additional cost and shouldn't mess up the timing of getting the dish on the table, depending on what veg you decide on, of course. What's more the meal is ready and on the plate far quicker than it would take for that delivery to arrive.
I'm told that only farm assured, free range and outdoor reared meats are used in the Lake House Table products, that the products as a whole are free from artificial preservatives and have not been heat treated for longer shelf life. So those of us who are keen to know that the meat they are eating is good quality and that their food is preservative free, can be reassured.
If you'd like to know more about the Lake House Table range go to: www.lakehousetable.co.uk