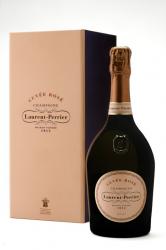 Looking for something a little more special and elegant as a Mother's Day gift, or indeed a gift for any celebration? You might like to consider a bottle of Laurent-Perrier Cuveé Rosé, a lovely Champagne that's presented well in its characteristic bottle. It looks and indeed is, an excellent bottle of wine.
As you pour the Laurent-Perrier Cuvée Rosé it foams nicely, this Champagne has an attractive coppery, soft pink colour and as it sits in the glass there is a constant but not excessive stream of bubbles. You bring it to your nose and you get good acidic strawberry and redcurrant notes in its bouquet. Then you take some in your mouth and it foams beautifully giving a creamy, mousse like feel. The palate is immersed in nicely acidic, tangy fresh strawberry and redcurrant flavours, with a hint of raspberry and cranberry coming through in the background. This is an elegant Champagne that has bags of character and although it has big fruit flavours bursting through on the palate it remains beautifully dry. After you swallow, the wine has a clean acidic finish with good length in which the redcurrant notes prevail on the tongue. I would drink it on its own, but it would accompany a fresh fruit dessert extremely well, I should think.
This is a lovely celebration Champagne, suitable for any occasion. It would make a great gift for your mum on Mother's Day, for her to drink on the day or save for another special occasion. You could perhaps take her two bottles, one nicely chilled to drink with her and toast the day and another for her to keep and enjoy another day.
Laurent-Perrier Cuveé Rosé can be found at Sainsbury's, selected Waitrose stores, Selfridges, Harrods, Harvey Nichols, Fortnum & Mason, Oddbins, Majestic, and selected Marks and Spencer stores. It's also available online at Waitrose Wine Direct and Majestic at an RRP of £59.99
For more information about Lauren-Perrier, go to www.laurentperrier.com