Lemon Olive Oil Cake
Extra virgin olive oil gives cakes and biscuits a rich and moist texture with a slightly fruity taste, without reducing the flavour of all of the other ingredients. But it's not just the taste and difference in texture, the Mediterraneans use extra virgin olive oil to maintain a healthier lifestyle too. And, if that's not enough, it's rich in vitamin E, which naturally helps to maintain the freshness of baked goods, so cakes and biscuits tend to stay fresh for longer. Below is a recipe for lemon olive oil cake – it's simple, it's tasty and it's incredibly moreish serve in slices, or with scoops of clotted cream and a few fresh berries to really spoil mum this year.
a lovely moist cake using olive oil instead of butter. This is a great cake with a moreish fruity texture and fragrance from the olive oil. This is flavoured with fresh lemon and filled with lemon curd.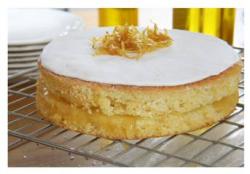 Ingredients
Serves 8
275g/10oz caster sugar
3 medium eggs
Zest and juice of 1 ½ unwaxed lemons
120ml/4fl oz extra virgin olive oil
100ml/3 ½ fl oz milk
275g/10oz plain flour, sifted
1 level tbsp baking powder, sifted
1 pack fondant icing
Icing sugar for dusting
2 tbsp lemon curd
For decoration:
1 tbsp caster sugar
Zest of two unwaxed lemons
Method:
Heat the oven to 180C/350F Gas 5. Whisk sugar and eggs together until fluffy and pale. Add lemon zest and juice. Stir in olive oil and milk. Fold in the flour and baking powder. Line the bases of two 24cm/10in with parchment paper. Carefully divide mix between the two tins and smooth over tops.
Bake for around 45 minutes or until tops are firm and a skewer inserted in the middle comes out clean. Leave to cool in the tin, then turn out onto a wire rack.
Roll out fondant thinly on a worktop dusted with icing sugar, then cut out a circle to fit the top of the cake.
For the decoration, place sugar and lemon zest in a pan and heat gently until sugar caramelises and coats zest. Remove from pan and leave to cool and become crunchy.
To assemble cake, spread one cake with lemon curd, generously. Place other cake on top. Finish with the circle of fondant icing, and perch the crunchy caramelised zest in the middle.
Fresh berry recipes
Strawberries, raspberries, blackberries and blueberries from Spain are now in season. Grown in southern Spain, these juicy berries are available in supermarkets throughout the UK until June. Treat your mum to a well-deserved break and lots of pampering this Mother's Day, with these delicious berry recipes. The special Mother's Day blueberry, blackberry and lime drizzle cake is a perfect low-cost gift idea that she'll love.
Mother's Day blueberry, blackberry and lime drizzle
Serves 12 slices, Preparation time: 15-20 minutes
Cooking time: 1 hour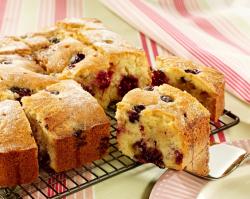 Ingredients:
225g softened butter, plus extra for greasing
225g golden caster sugar
4 medium eggs
2 limes, grated zest and juice
250g self-raising flour, sifted with a pinch of salt, plus extra flour
25g ground almonds
100g each blueberries and blackberries
Syrup:
8 tbsp lime juice (about 4 limes)
1 lime, grated zest
140g golden caster sugar
Method:
Preheat the oven to 180C/Gas 4/fan oven 160C. Line the base and sides of a 20cm/8in square cake tin (not loose-based) with greaseproof paper and butter the paper.
Cream the butter and sugar together until light. Gradually beat in the eggs, adding a little flour towards the end to prevent curdling. Beat in the lime zest, then fold in the flour and almonds. Fold in enough lime juice – about 3 tablespoons – to give you a good dropping consistency (the mixture should drop easily from the spoon when tapped).
Fold in three quarters of the blueberries and blackberries and turn into the prepared tin. Smooth the surface, then scatter the remaining fruit on top – it will sink as the cake rises.
Bake for about 1 hour (cover with foil if beginning to brown too much), or until firm to a gentle prod in the centre. A skewer pushed into the centre should be clean when removed.
Meanwhile make the syrup: put the lime juice, zest and sugar in a small saucepan. Put over a gentle heat and stir, without allowing to bubble. The sugar should dissolve a little. As soon as the cake comes out of the oven, prick all over with a skewer then spoon the syrup over it. To store, cool before wrapping in paper and/or foil.
Carefully remove the cake from the tin, discard the lining paper and cut into 12 pieces to serve.
Pan-fried duck with a blackberry and raspberry sauce
Serves 4, Preparation time: 10 minutes
Cooking time: 15 minutes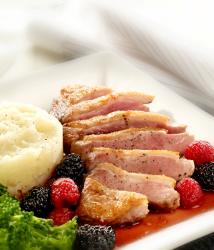 Ingredients:
1 tbsp olive oil
4 Duck breasts, skin scored
1 tbsp balsamic vinegar
150ml beef stock
2 tbsp redcurrant jelly
1 garlic clove, crushed
85g fresh blackberries and raspberries
Sea salt
Method:
Heat the oil in a frying pan, rub the salt into the scored skin of the duck and pan-fry for 4-5 minutes on each side, or until golden-brown on both sides and cooked to your liking. Remove from the pan and set aside on a warm plate to rest.
Add the balsamic vinegar to the pan, then pour in the stock, redcurrant jelly and garlic. Stir over a fairly high heat to blend everything together, then add the blackberries and raspberries and carry on cooking until they soften. Serve the duck with celeriac and potato mash and broccoli.
Sparkling berry jellies
Serves 6, Preparation time: 10 minutes plus cooling time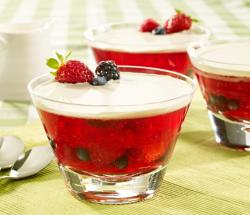 Ingredients:
135g raspberry jelly, broken up into cubes
300ml Cava
200g mixed berries, such as strawberries, raspberries, blueberries and blackberries, hulled and halved if necessary
Single cream and fresh mint, to serve
Method:
Put the jelly cubes in a jug, pour over 200ml boiling water and stir until the jelly has dissolved. Cool, then slowly stir in the Cava – you should have about 600ml liquid.
Divide the fruit between 6 x 150ml pretty glasses, then pour some of the jelly into each, to just cover the fruit. Cover and chill until the surface is just set – this holds the fruit in place, so it doesn't float to the surface.
Top up with the remaining jelly, cover and chill until set. They're now ready to take to the picnic.
Pour the cream onto each jelly in a thin layer, then decorate with fresh mint leaves. Serve with shortbread or a crisp biscuit.
French Syle Apple Tart with Classic Crème Anglaise
Or, why not bake your mother an apple tart, devised by vanilla extract specialists Nielsen-Massey. This recipe is simple to make, looks professional, but above all, tastes great. For that extra 'wow factor', make Nielsen-Massey's classic Crème Anglaise as an accompaniment.
Ready in 40 minutes, Serves 6-8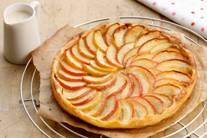 Ingredients:
300g all butter puff pastry
3-4 Coxes apples
Juice of ½ lemon
25g butter, melted
1 tsp Nielsen-Massey Vanilla Bean Paste
1 tbsp demerara sugar
For the Crème Anglaise:
300ml whole milk
300ml double cream
50g caster sugar
4 large free range egg yolks
11/2 tsp cornflour
11/2 tsp Nielsen-Massey Vanilla Bean Paste
Method:
Heat the oven to 200C/mark 6. Roll out the pastry the thickness of a £1 coin. Using a dinner plate as a template cut out a 26cm (approx) circle of pastry. Transfer to a baking sheet lined with baking parchment.
Score a 2cm border around the edge of the pastry case, being careful not to cut all the way through.
Core and thinly slice the apples, toss with the lemon juice, then arrange inside the border of the pastry case in circles, overlapping as you go. Mix the melted butter with the Nielsen-Massey Vanilla Bean Paste and brush over the apples. Sprinkle with the sugar.
Bake in the oven for 20-25 minutes until the pastry is crisp and golden.
Meanwhile, to make the Crème Anglaise, pour the milk and cream in to a large heavy-based pan. Heat gently until hot, but do not boil. Stir in the Nielsen-Massey Vanilla Bean Paste. Set aside to cool slightly.
In a large bowl, whisk the egg yolks and sugar and cornflour together until pale and thickened, then slowly pour the warm cream onto the egg mixture, stirring constantly until combined. Pour the custard through a sieve into a clean heavy-based pan. Heat gently stirring continuously until the custard begins to thicken. Serve warm or cold with the apple tart.