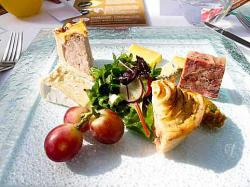 Ludlow is firmly on every foodie's list of places to visit. This beautiful Shropshire town has managed to preserve its historic centre against the usual invasion of plate glass and tacky 'modernisation' due to the fact that, as one local told me, 'it's bloody hard to get here by public transport.'
It's also attained near mythical status for its restaurants and local produce with everything from beef to beer gathered around the town's charming nucleus of winding streets and beautifully ravaged castle.
It's biggest time of year is the Food Festival in September when to get a B&B or hotel you have to book early, well book around now actually. Outside of that peak period Ludlow is it's usual serene self and it's the best time to visit.
Head to the hall
We knew it was going to be good as we crested the Clee Hills, the view was stunning and even the car, which had been shedding vital parts since leaving London, coughed a bit, cleared its lungs and charged down the steep road as if itself hungry for top nosh.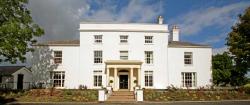 Destination was Fishmore Hall, a beautifully restored Georgian pile that had sunk to the level of being a derelict former reform school before Laura Penman found it, fell in love with it and brought it back to life as luxury boutique hotel with fifteen stylish bedrooms and a fine restaurant.
You can see the Hall from the town, its white façade a beacon drawing you in and from the hotel you can see the town and the Shropshire countryside. Romantic it certainly is and the peace and quiet envelops you immediately.
As well as offering a dog friendly, weekend break and wedding party perfect place to stay; there are lots of walks in the immediate area for lung fulls of fresh air. And when you return home hungry there's plenty to eat because Laura has, of course, majored on food at the hotel. In David Jaram she's found a Head Chef who is keen as mustard, unaffected by London style fads and foolishness and passionate about seeking out the best suppliers in an area not short of good things to choose from.
The restaurant has in fact proved so popular that Laura has spent the winter enlarging it with a classy conservatory that matches the house perfectly and increases the covers. Now named The Orangery it's a good setting for David's cooking but before we sampled that, we wanted to visit The Ludlow Food Centre, about ten minutes drive away.
Local. Local. Local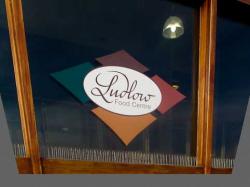 This brand new building, on land part of the Earl of Plymouth's Oakly Park Estate, was designed from the ground up to be unique. It could have been the usual 'farm shop' carved out of an old barn but its creator had other ideas. Instead it's a shop with eight production kitchens around its perimeter meaning that 50% of the food sold is actually produced on the premises.
Machinery is only used when necessary, the aim is to support the local economy not just by purchasing from local growers and producers, but by employing and training people too. Staff are encouraged to explore ideas, learn new skills and be a part of an ongoing enterprise that is very socially aware.
The result is a mouth-watering selection of goods, from a meat counter where local Gloucester Old Spot pigs are turned into superb sausages, black puddings and, my personal favourite, a Scotch Egg with a black pudding inner shell, to award-winning marmalades, pies and everything in-between. Plus, of course, oodles of local seasonal vegetables and fantastic English and Welsh cheeses. Luckily we had a fridge in our room, so out went the water and beers and in their place went the food loot just as soon as we got back.
Time for a shower in the frankly rather unsettling open bathroom, the only room to have it and not perhaps to everyone's taste, and it was down to sample David Jaram's Taste of the Marches menu.
Here comes the food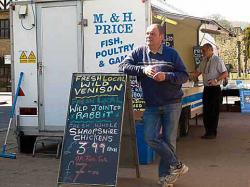 Kicking off with Smoked Salmon Apple & Yoghurt Textures with a Sauvignon Blanc, Buitenverwachting 2009 it was hard not to enjoy the salmon, a very fine piece of fish indeed. The textures were subtle to the point of being similar, more interesting were the counterpoint sourness of the yoghurt and the crisp acidity of the apple, which worked well even with the wine's own pronounced acidity and rather peppery notes.
The next course was Foie Gras Poached Rhubarb, Walnut Toast with Coteaux du Layon, Domaine Des Quarres 2007. Serving a sweet dessert wine with foie gras doesn't win any prizes for daring sommeliership but when something works so well why break it? A baby-bottom smooth slice of foie and the metallic tang of the new season rhubarb cut the fattiness well. The walnut toast was particularly good.
Seared Scallops Black Pudding, Jerusalem Artichoke, Lemon sounded good, but I was disappointed not to have been given a bit more black pudding with it. The scallops had hit a very hot plate so as to get the vital caramelisation on the outside while maintaining an almost creamy centre. Jerusalem artichoke gave a veloute edge to the dish. The Petit Chablis, Domaine de la Tour, 2006 was a working match, even if the wine waiter had to actually nudge one of our number to shut up so he could tell us about it. Quite funny really but let's hope no Michelin inspectors were watching.
And the main of mains, Slow Roast Fillet of Beef Oxtail Wellington, Glazed Shallots, Wild Mushrooms, Madeira Jus served with Passo Doble, Masi, Malbec-Corvina 2008. I was scared this would be too big, too meaty, too much but David has a light touch. The oxtail in its dinky pastry jacket was rich and robust, the beef just rare enough to let its flavour come out without being too bloody. Shallots I leave, as onion of any kind is unkind to my stomach, but the rich juice and the meaty mushrooms went down a treat,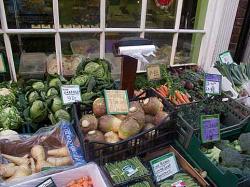 Local cheeses, served in the French way before dessert, were all wonderful. There's no doubt that our regional cheese makers are creating cheeses that can hold their own in any cheese-off with the French. We all need to seek out more of them and The Mousetrap, a cheese shop in Ludlow centre, is a must see to get a taste of just how much variety is on offer. Port was served with the cheese, which seemed a bit anachronistic, but hey ho.
Dessert didn't disappoint Dark Chocolate Delice Cardamom & Blood Orange was tart and sharp but also rich and slippery, here the choice of a Vin Santo Del Chianti Classico, Antinori, 2003 made good sense.
All in all a very good meal at a fair price for the area and certainly cheaper than in London where you wouldn't get the view or the freshness of the local produce. And not too heavy either, the stairs to bed seemed like a stroll not an ascent on Everest,
The big test is breakfast
As a hotel chef once told me ' You can wow them at dinner,' he pointed out, 'but it's the breakfast they'll remember,' With local sausages, eggs and black pudding Fishmore Hall do a memorable breakfast, although it was disappointing they had no kippers. The wife dearly loves a kipper in a hotel because cooking them at home makes the house pong for days afterwards and local cats queue up in the garden wearing hopeful expressions.
To the battlements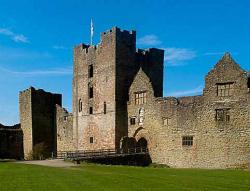 The town beckoned in the now brilliant sunshine so we passed a happy morning admiring the little lanes, the food shops and the marvellous castle. When you buy your admission ticket it allows you to come and go all day, which is generous of the trustees. As a grand finale we had lunch in the Mill on the Green, an award winning café by the river where chef/proprietor Clive Davis's food has a vibrant freshness and immediacy that calls to mind the River Café but without the prices or the snobbishness. It gets busy and it runs out of things, so get there early.
In fact get to Ludlow early to enjoy the town without the crowds. Spring is perfect as the new lamb and veg start to appear on plates. Fishmore Hall has it all really, a great location, very stylish interior and rooms and a chef who's committed to bringing you the best.
—————————
Fishmore Hall Fishmore Road, Ludlow Shropshire, SY8 3DP www.fishmorehall.co.uk
Mill on the Green, Millennium Green, Dinham Bridge, Ludlow, Shropshire SY1 1EG www.ludlowmillonthegreen.co.uk