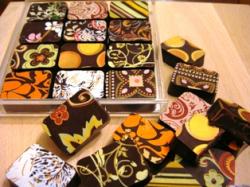 Having had this box of simply packaged chocolates land on my desk, the temptation to try these attractively presented goodies was far too great to resist.
The main Lauden range is of 12 oblong tablets measuring approximately 2cm x 3cm and about 1cm in depth, so each about two bites big, you could perhaps cut them in half and share with your loved one, but who's going to do that! These little gems have a vibrant depth of flavour that lingers on the palate, both from the quality of the chocolate shell and its luxurious centre.
The twelve flavours include such delights as the Mediterranean Orange, the dark chocolate shell encasing a rich chocolate ganache with a good orange tang, a slight sharpness and some tiny pieces of orange peel. The Passion Fruit is filled with fresh, clean tasting passion fruit puree that has a lovely edge to it, and mingles perfectly with the chocolate. The Marc de Champagne is filled with another good rich ganache that has a hint of the Marc de Champagne and an alcohol flavouring giving it some bite and making it a lovely mouthful. Raspberry and Rose has Turkish delight notes, floral rose with some great acidic and strong raspberry coming through in its finish. The lemon, tasted strongly of the fruit, it having been blended with white chocolate to give a great zingy flavour, mixing well with the dark chocolate coating in the mouth. The Lychee and Rose has a lovely rose fragrance with a great but subtle fruity edge from the lychee. The lime, another ganache, that has strong lime fruitiness coming through well in its finish. These little gems of confectionary are perfect for spoiling yourself when you have an evening alone, or as an indulgent gift for a loved one.
You can find out more about Lauden chocolates at their site www.laudenchocolate.com from where, should you wish, you can order their products direct, take a look. At just under £8 for a box of 12 chocolates, packaged in clear plastic slide top boxes, they are remarkably good value.
Lauden Chocolate, 63 Brussels Street, Leeds LS9 8AB Tel: 0113 244 0289