The Princess of Shoreditch, 76 Paul Street, EC2A 4NE Tel: 0207 729 9270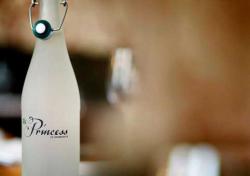 I was gazing admiringly at the portraits of the Princess of Shoreditch, wondering on her woeful regality, when the waiter pointed out she was fictional. Nevertheless, the doctored photos of music hall madams – the types that belted out East End croon-alongs – make a pleasing addition to the refurbished dining room upstairs at the eponymous Old Street gastropub. It's now under new ownership with head chef Benoit Doutres bringing a French flavour to the food.
Winding up the wrought-iron spiral staircase brings you into a different world above the hubbub of the Shoreditch types downstairs. Actually, they're older Shoreditch types, not the hypercool, these are the ones with a smidgeon more money (and age). I was eating with D tonight, who'd already jammed up on wine elsewhere so I feared his taste judgment but this proved impeccable.
The king scallops with caramelised salsify and mushrooms was pretty as a picture (surrounding pastiches excluded), as were all the dishes beautifully presented. But while the scallops were perfectly cooked, something had happened in the caramelisaton: I had too large a sump of oil in the plate, begging for a bit more sweetness to offset it. I loved D's rabbit and tarragon terrine with rustic toast though, even more so because I discerned a cute carrot cube. And it wasn't overpowered by the tarragon, 'but it's too salty," said D. I hadn't noticed but sure enough, there were harsh sodium spikes – we think they'd used rock salt.
Mainlining, I had rump of west Devon lamb, white beans, pak choi, chantenay carrot, tomato, thyme and chorizo dressing jus. The medium-rare lamb – of which there was plenty – was excellently cooked, moist with bite on the ring and the pak choi a refreshing alternative to the usual greens. Great white bean puree too but the pancetta felt superfluous in what basically tasted like a traditional English Sunday dish. D got baked stone bass, braised fennel and red cabbage with poached oyster and oyster sauce which I'm sure is usually perfect but sadly the fish was overdone – easy to do when baking – and oversalty. What seasoning demons lived in the kitchen tonight! But they do do vegetables very well here – none over-cooked, all crunchy to keep in the goodness and evocative enough to bring D over all gooey. 'This cabbage reminds me of our school dinners," he reminisced, of a time when the village hall was the school dining room and cabbage was revered.
For puddings, we had espresso cheesecake, chocolate & Amaretto cream and rosemary crème brûlée with gooseberry compote, both of which were accomplished. The service here was careful, polished and exacting, we couldn't find fault with that. And the food – with a few exceptions – was pretty much the same. As long as the mighty Princess of Shoreditch keeps an eye on the salt and other demons, we're sure the punters will keep coming.