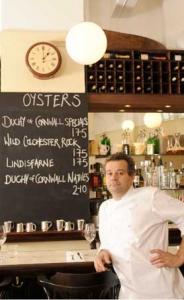 Mark Hix will open his third London restaurant within Selfridges London as a new destination within the Oxford Street department store around March 1st 2010.
Hix Restaurant and Champagne Bar will be located on the store's ground floor on the site that was formerly The Gallery restaurant.
For guests looking to relax the Champagne Bar, which will have a glamorous feel, will seat 40 guests and will serve Mark's Snax – a selection of smaller dishes such as Isle of Man queenies with chorizo, potted ham hock with piccalilli and Scotch quails eggs with caper mayonnaise.
Next door the 90 cover restaurant will offer something more substantial and will have mixed seating at tables as well a crustacean bar with stools. Opening hours will match the store so Mark will kick-start the day be offering customers breakfast from 9:30 am.
The menu will reflect Mark's signature British style with an international influence to suit the cosmopolitan mix of Selfridges customers. It also has the addition of lighter dishes suited to a day dedicated to shopping!
Mark Hix says: "I am delighted to have a second west-end site. At Selfridges I am going to introduce a different menu and feel to both Hix in Soho and the Oyster & Chop House in Smithfield. "My offer will be suited to busy shoppers and include lighter dishes from breakfast to the smaller plates served at the champagne and oyster bar. I will continue to support many of the great home-grown producers we have forged great relationships with over the years."
"One exciting difference to my other projects has been working with the iconic Terence Conran and the Selfridges in-house team on the design to create an environment which will work well for Selfridges customers. I am delighted it will include art from friends Tim Webster, Matt Collinshal and Tracey Emin."
Mark Hix's other establishments include HIX on Soho's Brewer Street, Hix Oyster & Chop House in London's Smithfield's Market and Hix Oyster & Fish House in Lyme Regis.