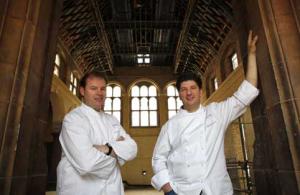 The wait is over , Galvin brothers announce date of opening of Galvin La Chapelle and Café de Luxe.
The latest venture from the unstoppable Galvin Brothers, will open its doors in Spital Square, E1, on 18 November 2009 to cater for the new money now gathering in the area and ready to spend on fine food as well as cool food.
Galvin La Chapelle and Café de Luxe follows the success of award winning Galvin Bistrot de Luxe and Galvin at Windows. The gastrodome will comprise Galvin La Chapelle, a fine dining restaurant, housed in the beautiful vaulted 19th century Grade II listed St Botolph's Hall; Café de Luxe, a contemporary all day cafe with outdoor seating leading on to Bishops Square, and an interconnecting aperitivo bar, serving light dishes from 5.30pm-7.00pm.
Chef Patrons Jeff and Chris Galvin, said: "We wanted to create a place which everyone in the area can call their own and feel at home any time of the day, but one that also could become the ultimate destination restaurant."
No doubt those who like to be first have already been invited or are setting up sleeping bags outside for the official opening. With Xmas coming up this new venue will want to be shaken down and seaworthy as soon as possible, so as not to miss out on the potential revenue. After Xmas there could be a big reckoning in the restaurant business, but we reckon if anyone can sail through it will be the Bros Galvin
35 Spital Square
London E1 6DY
Telephone: 020 7299 0400