15-17 Blandford Street, Marylebone, W1U 3DG www.trishnalondon.com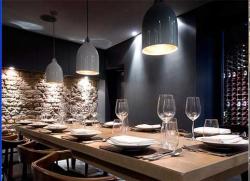 Is it really a year since Trishna opened? It must be as they have a special first birthday menu on the go and it's a bit of a cracker.
Chef Ravi Deulkar has helmed Trishna's kitchen to be one of the favourites in London, no mean feat with the continuing rush of quality 'Indians' into the capital. His way with seafood and meat is one that combines a light touch with deep flavour to create dishes that don't leave you bloated and begging for mercy, only more. Try getting a Saturday night booking without planning well ahead and it's obvious that this is one restaurant facing down recessionary talk with volleys of great reviews and fine food.
The Birthday menu is remarkable value for £32.50. We loved each dish for their stunning eye appeal and exciting, tingly, flavours. Seven dishes and one dessert sound a lot to get down, but chef's portion size is as precise as his cooking. Just don't load up on the lovely bread as we did, and rather regretted. You will be sated, don't worry
Highlights are hard, it was all so good, but Tandoori Guinea fowl with masoor lentils, fennel seed and chilli was excellent, while the lamb chops with ginger and chilli were good to the very last bit. Not a scrap of meat was left, thanks to us going all Henry VIII on the bones. Light as feather, the bream fillets with mint and coriander wafted cool breezes, while whole roasted fish of the day was excellently cooked, the crisp skin full of taste.
Baby potatoes tossed in roasted rice and mustard seeds came along with the fish and were seriously addictive; you could market these as a snack all on their own and they would rocket off the shelves. The Dal that also came with the fish was the only 'sloppy' thing on the menu; spicy and sharp it was a bit difficult to eat with a fork, but that's the only complaint to make against it. Next time I'll take my spoon, or maybe a straw.
Mango rice pudding with sweet chilli and pistachio finished us off, a rich end to a sumptuous meal. We also indulged in the wine accompaniment to each dish, a further £39.50 a head and mostly successful particularly with the whites; Chardonnays and Rieslings to the fore.
One year old Trishna clearly intends to stick around to draw its pension and with the standards so high, and with no signs of slipping, there's no reason why it shouldn't. Join the celebration and fight for that booking.