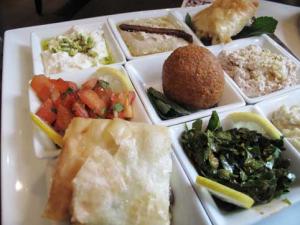 Ask the average person their experience of Turkish food and they will probably say 'kebab'. If pushed they will specify Doner Kebab, that tasty post-cocktail treat that falls apart when you bite into it, leaving your salad on the pavement and both ears full of chilli sauce. Since the death of the indigenous fish and chip shop the Kebab house, with its elephant's leg slowly spinning on a spit, rules the suburban multi-cultural high street.
That a proud and centuries old culinary culture should be reduced to this cliché is a shame because restaurants like Tike (pronounced TK, as in TK Max) prove there is much more to Turkish food than dubious meat dishes. Back in its home town of Istanbul, Tike has piled up plaudits faster than you can say Sogan Sarmisak Yoghurtlu (bbq'd shallots btw) and here in Milord Richard Rogers modern glass building, next to Fenchurch Street station, it already attracts a sizeable Turkish customer base, as well as more adventurous Western diners.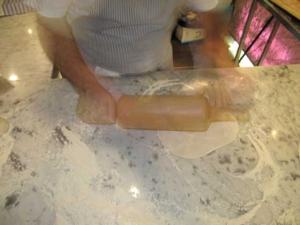 Downstairs during the day the bar has the ubiquitous Ibiza Chill CD compilation on high volume and is somewhere unfussy to eat and watch the bread man do his thing; thin breads, fat breads and puffy breads, he freshly makes them all then bakes them in his stone oven. The puffy bread balloons are complimentary, coming to table as you try to make head or tail of the menu and they are hot, light and delicious when dunked into the accompanying fresh Tzatziki.
Staff, like the cooks, are Turkish and have the hospitality you associate with the culture and are happy to advise. We settled for a mixed selection of starters out of fear of missing something good. Presentation was smart, a tray of dinky dishes too many to enumerate here. Of the selection tomato pieces in pomegranate juice were tart and moorish, going well with a bowl of flat leaf parsley in lemon juice. The hummus was good too, although disconcertingly warm, but at least wasn't over packed with tahini, which has a drying effect on the palate, the sliver of spicy sausage perched on top was unusual.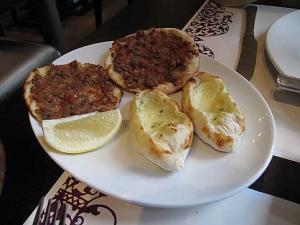 Crispy filo parcels called Perde Pilav had some excess oil slicking about but the mix of chicken with fruit, nuts and rice was refreshing. Ichli Kofte- steamed balls of cracked wheat stuffed with minced beef were a bit dull, but grilled haloumi cheese showed how simple stuff comes alive on a hot grill. A special treat were the Lachmajun – thin crispy breads topped with minced meat, herbs and spices and served with lemon, and Pide – little pies stuffed with kisir cheese and vegetables. Both of these can be eaten as large portions or as we had them, small plates.
In any restaurant from this region, you know to brace yourself for the meats and to vaguely regret eating all that lovely bread. They do a metre long kebab skewer here, which we almost ordered for the potential comedy value if nothing else, but instead had a mixed selection of meats. This was a good choice because these were superb. Chicken grilled perfectly to be moist inside with good flavour-packed charring outside, doner kebab meat that was fine quality,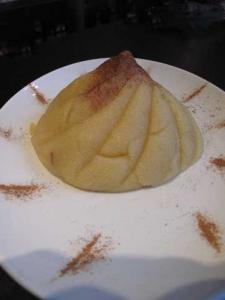 finely sliced and especially fine to eat dusted with the choice of spices on the table and then wrapped in the almost transparent fresh baked bread. Real hands-on eating this, as satains on my jacket proved. Also in the mix were charcoal grilled lamb chops, very good too, and kofte kebabs of minced meat. The bread kept coming and we kept eating as the light began to fail outside.
One of us slumped back and threw in the napkin, but I soldiered on for dessert. A strangely erotic-looking Irmik Helvasi -a 'speciality baked dessert' made with fresh semolina and pine nuts and scented with cinnamon with an ice cream centre. It was a bit heavy, but the ice cream leavened it. A peculiar dish but enjoyable.
Tike has lovely food, lovely staff, a modern vibe that makes you rethink Turkish cuisine, and it's really not expensive at all. I'm going back, but this time that one metre kebab has got my name on it, albeit in long hand of course.