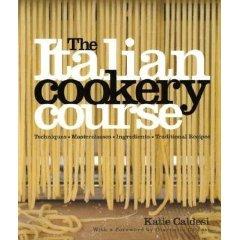 The proof of a cook book is in the eating. Last week Katie Caldesi showed us how easy it was to make great Italian food from her own book by knocking up lunch, while I asked her impertinent questions and generally got in the way. So impressive was her demo that an elderly gentleman who had wandered into the Caldesi kitchen, presumably under the impression it was open house, looked, listened, smelt and then picked a show copy of her book off the shelf and bought it on the spot.
Katie and husband Giancarlo Caldesi own and run Caffe Caldesi in Marylebone and Caldesi in Campagna in Bray. Katie also runs the La Cucina Caldesi cookery school, so who better to create a definitive cookbook and course for Italian food?
This is weighty book, not just in the way it makes my IKEA 'invisible support' shelf adopt a distinct downward incline, but also in the weight of knowledge inside it. Katie spent three years travelling all over Italy to talk to chefs, old ladies, producers and other experts in food fields to put it all together.
The regions of Italy are each proud of their unique recipes and rarely agree on anything, be it variety of vegetables or cooking technique. Weather and landscape play a large part, from fierce sun soaked coastal regions reliant on seafood, to temperate mountain pastures where succulent meat is grown on the finest grass. To even think about gathering it all up in one book is to make the head spin, but here Katie has managed to edit all the information she has gleaned and make it digestible for us stuck in the UK.
Perhaps it's because she isn't Italian that she can do this. Any Italian would have succumbed to partisanship early but Katie simply says 'show me' to the cooks she meets and that's what they do. Specialities of a region, of a village even of one family are brought to the pages with stomach-rumbling effect.
There are 40 masterclasses on technique: such as making and baking bread, making pasta, trussing quails, making stocks and sauces. Each is rigorously explained in simple terms, because at the end of the day Italian cooking is all about simplicity and not fine art. Master these basic techniques and you can't go wrong with the recipes which are, without exception, totally tempting.
In fact there are around 400 recipes from Italy's 20 regions with chapters on Pasta,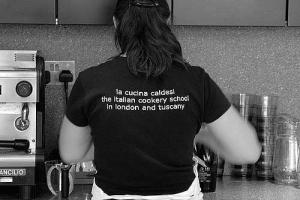 Meat, Fish, Dolci and Cheese all beautifully accompanied by evocative photography. I have already made vast quantities of the recommended Bolognese sauce and it's been the best I've ever made, and then frozen it in handy portions. We have made soups and stocks and even breads and they have all come out deliciously well in our less than perfect kitchen. This is a cookbook to really get messy, a cookbook whose pages will end up stuck together and the spine broken. In short, a proper cookbook not a chef vanity project. Ask for one for Xmas, it's a gift.
{ISBN:1856267792}