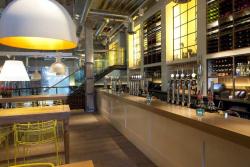 A selection of seafood served in a bank deposit box, a blend of skinny cocktails that are less than 100 calories a pop. A place where guests can swing in hanging chairs whilst sipping on wine or enjoy the bright lights of the big smoke gathered around a firepit with a hot toddy.
Sailing in on the wave of Drake & Morgan's success of the refinery in Southwark last year, the parlour bar and kitchen with an all day menu, from breakfast to dinner with a choice of locally sourced seasonal dishes alongside fresh seafood . Quality ingredients take pride of place from Neal's Yard, Allen's of Mayfair and Borough Market's Flour Station.
Deli style antipasto boards with cured meats, sun ripened tomatoes, Puglia marinated olives and a selection of handmade breads. Gourmet club sandwiches and burgers such as the sticky bbq glazed pork burger with homemade beer battered onion rings sit alongside lighter salads as lunch options.
the parlour
The Park Pavilion
40 Canada Square
London E14 5FW
T: 0845 468 0100