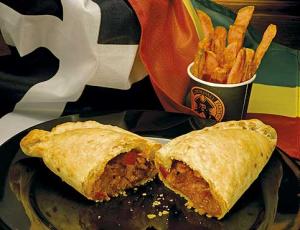 Yeh mon! To celebrate the launch of the new Reggae Reggae pasty from West Cornwall Pasty Co, entrepreneur and musician Levi Roots is going to be performing live in Covent Garden on Friday 26th February, with songs from his latest album 'Red Hot'.
You may remember Levi Roots, who claimed his fame following a successful appearance on Dragons' Den, securing investment from Peter Jones? Well he has joined up with the Cornish pasty retailer to create the new pasty, which features hand crimped flaky pastry with pieces of chicken breast, red pepper, potato, onion, tomato, pineapple, jerk seasoning and finally a good splash of Reggae Reggae Cooking Sauce. The pasty is now available at West Cornwall Pasty Co's 71 shops and kiosks in London and across the UK.
West Cornwall Pasty Co chief executive Richard Nieto said: 'We're delighted to introduce the Reggae Reggae Pasty. We're wholly committed to developing exciting new products and we're sure this will be a huge success with our customers. Levi and his team are very forward-thinking – it's been great to work with such a flourishing brand with which we share great affinity."
To complement the Reggae Reggae pasty, West Cornwall Pasty Co has introduced a range of accompaniments, including sweet potatoes and Piri Piri potato wedges for those who prefer to add even more heat to their meal.
Reggae Reggae Sauce founder Levi Roots added: 'Developing the new pasty for West Cornwall Pasty Co has been thoroughly exciting. It's wonderful to see a fusion of flavours from Cornwall and the Caribbean! The sauce we have used within the new pasty has a kick of Scotch Bonnet chilli which is found in the original Reggae Reggae Sauce, but is packed with more juicy tomatoes and onions. It's perfect with meat or vegetables, so when you're not enjoying the flavour of the sauce in the new Reggae Reggae Pasty, you can serve it up at home and enjoy some Caribbean sunshine with all the family."-