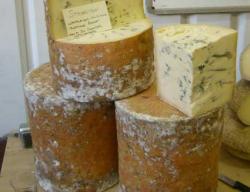 To celebrate National Dairy Week the British Cheese Board (BCB) has been asking our favourite celebrity chefs to reveal some of their top tips for cheese. National Dairy Week, which runs from the 22nd – 28th February, aims to raise awareness of the nutritional benefits of dairy products, including cheese, and the vital role they can play as part of a healthy, balanced diet.
To celebrate the week that is dedicated to dairy, the BCB have asked Michel Roux Jr, Head Chef at Le Gavroche and presenter of BBC2's MasterChef: The Professionals, and Jason Atherton, Chef Patron at Maze, to share their top tips on cheese. A recent poll by the BCB revealed that Cheddar remains the nation's favourite cheese, accounting for 55 percent of all household purchases. And, when it comes to their favourite types of cheese, it appears that both our celebrity chefs agree with the majority of the British public, with both chefs admitting they can't resist a mature British Cheddar.
When asked to reveal their favourite cheesy dishes, Jason Atherton opted for a traditional English supper dish – Cauliflower Cheese. Such is his affection for this cheesy recipe that his top tip is to sous-vide the cheese sauce – a sous-vide consists of vacuum packing and slowly heating the cheese sauce in a warm water bath – for 6 hours prior to making it! Michel Roux Jr opted for something becoming of his French ancestry; Soufflé Suissesse. Soufflé Suissesse was first created in 1965 by his father, Albert Roux, and became the signature dish at Le Gavroche. The dish uses a mixture of Gruyere cheese, Béchamel and cream sauces within the Soufflé however, for a British take on this culinary classic, you could substitute the Gruyere with a Cheddar or even a Creamy Lancashire cheese.
When asked to give his top tip for serving cheese, Michel Roux Jr, suggests serving beers or ciders with cheese as opposed to the more traditional pairing of wine and cheese. Pairing cheese and beer is certainly a growing trend amongst cheese lovers owing to the wealth of pairing options to explore. Britain produces over 700 named cheeses and there are over 2,000 brands of beer in Britain so, with such variety, on offer you're sure to find a perfect match to enjoy.
For more handy hints and tips from our celebrity chefs visit: www.britishcheese.com