To celebrate British Pie Week, Mash Direct has partnered with wellness influencer Charlie Watson from The Runner Beans who has created a great-tasting and nutritious Plant-based Cottage Pie, incorporating the approved five portions of vegetables a day.
MASH DIRECT'S COTTAGE PIE RECIPE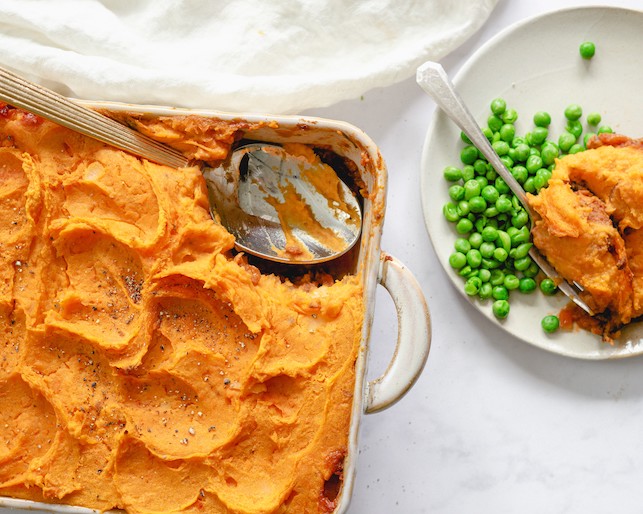 Mash Direct (www.mashdirect.com), the award-winning 'field-to-fork' vegetable accompaniments brand, is launching its "Five By Five Challenge" campaign (15th February -7th March 2021) to encourage individuals to eat more vegetables.
As part of the campaign, Mash Direct is challenging consumers to eat five portions of veg a day for five days, to highlight the benefits of incorporating more vegetables into the diet and to promote health and wellbeing during the colder months.
5-A-Day Plant-Based Cottage Pie
Ingredients:
2 packs of Mash Direct Vegan Carrot & Swede Mash
15g Plant-based butter
Onion, finely chopped
4 sticks of celery, finely chopped
2 carrots, finely chopped
320g mushrooms, finely chopped
2 cloves of garlic, crushed
400g vegan minced beef
150ml red wine, optional
1tbsp plain flour
2tbsp tomato puree
400g tin tomatoes
350ml vegetable stock
1tsp dried thyme
Serves 4
Method:
Preheat the oven to 180*C fan. In a large pan, melt the butter and cook onions, carrots and celery until softened (10-12 mins), over a medium heat.
Turn up heat & add mushrooms and garlic, fry for 5-7 mins. Stir in the mince, breaking it up and fry until golden. Add in the wine, if using, and stir until reduced
Turn down the heat, add in flour & tomato puree, fry for 1 min before stirring in the tinned tomato & stock. Simmer gently for 30 mins until thickened
Spoon the vegan meat mixture into a 2L ovenproof dish, top with Mash Direct Carrot and Parsnip mash. Bake for 25-30 mins or until top is golden. Serve with side of peas.
Mash Direct will give consumers the opportunity to win a week's supply of vegetables if they can show evidence on social media that they are eating five portions of vegetables, and are being creative with their dishes. All they need to do is tag @mashdirect in their content, include the hashtag #5by5veg and they will be placed in a draw to win free products.
Mash Direct's range of vegetable accompaniments is ideal for people that are time poor and struggle to consume enough vegetables into their diet. All dishes can be cooked to perfection in the microwave or oven in around twenty minutes, combining convenience with great-quality, natural ingredients.
Each dish is 100% gluten-free and free from artificial colourings and flavourings. Many Mash Direct vegetable products are an approved serving of 1 of 5 day.
Mash Direct has also created a bank of delicious recipes that can be accessed from the brand's website (www.mashdirect.com/recipes) to showcase how vegetables can be creatively incorporated in daily life. Key influencers from across the UK will also produce innovative serves using the Mash Direct range, which will be hosted online.
Mash Direct combines six generations of the Hamilton family's farming expertise to create an extensive range of delicious and award-winning 'field-to-fork' vegetable accompaniments. Everything is created fresh on their farm with the true taste and texture of home cooking and the brand has received 23 Great Taste Awards to date.
Mash Direct's innovative range is available in major retail multiples, convenience stores and independents throughout the UK. Consumers can also order online from the website: www.mashdirect.com/shop.
Jack Hamilton, Chief Operations Officer at Mash Direct comments: "The Mash Direct 'Five By Five Challenge' campaign is being launched to encourage individuals to eat more veg. We hope that this initiative encourages consumers to incorporate delicious and high quality veg into their daily diet to improve their health and wellbeing."
The Mash Direct Five By Five Challenge campaign launches on the 15th February. To enter the competition, individuals need to showcase evidence of consuming five portions of vegetables and being creative with their with dishes, tagging the brand @mashdirect and using the hashtag #5by5veg.
Website: www.mashdirect.com / www.mashdirect.com/sports/
Facebook: www.facebook.com/MashDirect
Instagram: @mashdirect