In anticipation for the romantic month of February, the cheese experts at Paxton & Whitfield have selected the delicious heart-shaped Coeur de Neufchâtel (£5.50/200g) for cheese lovers to enjoy.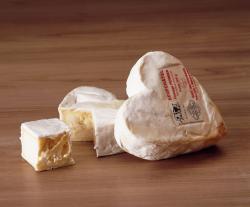 Hand-picked for its unique flavour and quality, this artisan cheese dates back over 1,000 years to 1035 when Hugues I of Gournay gave it to the Abbey of Sigy as a tithe. During the Hundred Years War, legend tells that local girls from Neufchâtel-en-Bray offered the cheese to English soldiers, who thought that the cheese tasted like heaven and that the bloomy white cheeses, shaped like a heart, were angel wings.
This smooth, creamy, heart-shaped cheese is made from unpasteurised cow's milk using traditional rennet, in upper Normandy, France, and takes its name from the town where it is made, Neufchâtel. Similar to Camembert in texture and taste, it has a richer flavour with a hint of mushrooms and a soft white velvety rind. It is the oldest cheese to be made in Normandy and since 1977 it has been a protected cheese, being given the Protected Designated Origin (PDO) status. To accompany the cheese, enjoy a bottle of Paxton & Whitfield's specially selected Champagne Grand Cru (£29.95). Its unique flavours make it perfect to eat with this cheese and the high percentage of Pinot Noir grape used to make it gives great depth and a full flavour. Finally, serve the cheese on Paxton & Whitfield's hand crafted Heart Shaped Slate Board (£30.00), the perfect serving accessory to add a final romantic touch.
Paxton & Whitfield supplies Selfridges, Harvey Nichols and Harrods with their artisan cheeses and fine food products with from both local and European sources. www.paxtonandwhitfield.co.uk