Here are a couple of terrific recipes that will make firing up the barbecue well worth the effort and touch the sweet spot for friends and family whether vegetarian or carnivore.  

When planning a barbecue, the trick is to get the coals going a good half hour before you start cooking to ensure that they're just at the right temperature and retain a constant glow when you pop on the ingredients.
SWEET POTATO BURGER WITH SWEET PEPPER RELISH
If you're looking for a veggie barbie alternative, the peppers, mustard seeds and chilli in this relish will have your taste buds tingling in two ticks.
Makes 5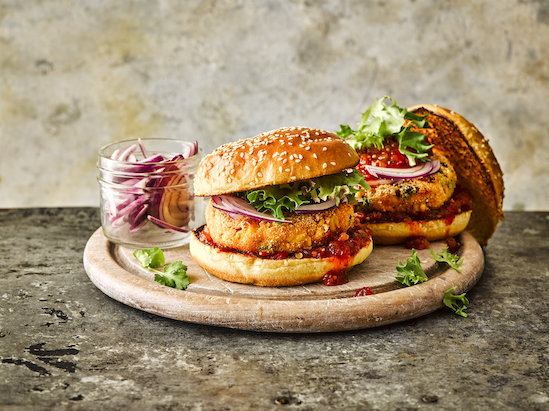 Ingredients:
3 large sweet potatoes (about 750g)
3tbsp Tracklements Sweet Pepper Relish and extra to serve
1/2 tbsp ground cumin
1/2 tbsp ground coriander
170g can sweetcorn, drained
small bunch coriander, roughly chopped
100g polenta
Sea salt and black pepper, freshly ground
Red onion, sliced
Lettuce, as much or as little as you wish
Method:
Heat the oven to 200°C/gas mark 6. Pierce the sweet potatoes, place on a baking tray and bake for 45 mins until really soft. Remove from the oven and leave to cool
Scoop out the "flesh" of the potato and put in a bowl. Add 3 tbsp of Tracklements Sweet Pepper Relish. Mash together with the cumin and ground coriander, sweetcorn, fresh coriander and half of the polenta and season to taste
Shape the mixture into 10 burgers. The mixture will be quite soft. Carefully dip each one into the remaining polenta and dust off any excess. Place burgers on oiled baking trays and chill for at least 30 mins
When the flames on the barbecue have died down to white embers, place a large, well-oiled non-stick frying pan or sturdy baking tray on top of the bars. Cook the burgers in the pan or on the tray for 10 mins each side until nicely browned
Serve in buns halved and warmed on the barbie just to add a bit of smoky flavour, pop a burger into the bun, top with Tracklements Sweet Pepper Relish, a slice of red onion and lettuce
BARBECUED SIRLOIN STEAK WITH TRACKLEMENTS BRITISH BEER MUSTARD DRESSING
Steak is such a barbecue classic. Rather than create a marinade, let the flavour of the steak speak for itself and instead, quickly prepare this simple sauce to drizzle over the rested meat once it's cooked.
The slight heat of the steak will enhance the dressing flavour even further. It's hard to believe that something so good could be so easy to make.
And don't forget the veggies. Aubergines, peppers, asparagus and cherry tomatoes love the barbie. Lightly toss in seasoned olive oil and cook until just tender.
Serves 2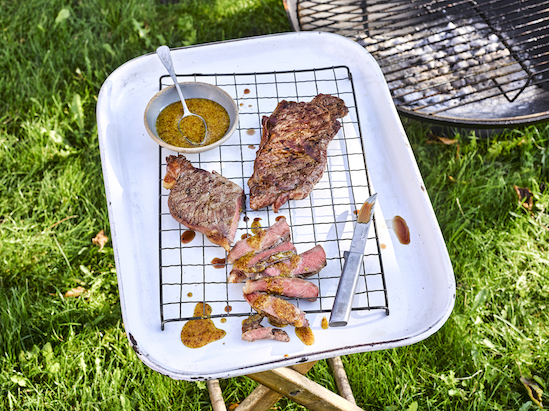 Ingredients:
2 x sirloin steak
2 tbsp Tracklements British Beer Mustard
1 tbsp runny honey
1 tbsp olive oil
Freshly milled sea salt and black pepper, to taste
Method:
Barbecue the steak until it's cooked to your preference

Meanwhile mix together the Tracklements British Beer Mustard, honey, oil and seasoning

When the steak is cooked, slice and drizzle with the dressing
Tracklements Sweet Pepper Relish RRP £3.75 for 220g, and Tracklements British Beer Mustard RRP £2.35 for 140g are available from fine food delis and farm shops nationwide and online at www.tracklements.co.uk.
@tracklements #tastytracklements #LifeandSoulofthePantry