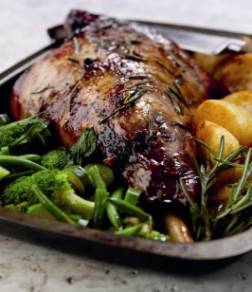 2nd February 2009 marked the start of the 'New Season' for New Zealand Lamb here in the UK, reminding lamb-lovers nationwide that their favourite meat is widely available. New Zealand's climate ensures that lamb is available for UK customers virtually all year round. It also complements a range of other seasonal, springtime vegetables, such as new potatoes, tomatoes and purple sprouting broccoli.
Lean New Zealand Lamb is one of the healthiest red meats around; it is relatively low in calories and cholesterol, and high in protein. It also offers a great source of essential nutrients such as B vitamins, zinc and iron, all of which help to maintain a balanced diet and good health.Even the 'greenest' consumers can rest easy because New Zealand Lamb is free-range and reared in a natural and pasture-rich environment. You don't have to worry about using up more than you share of carbon with this meat, either. More than 99% of New Zealand Lamb is transported by ship which is widely considered to be the most environmentally-sound method of transport.
A gourmet food, lamb meat is lean and nutritious and effortlessly makes any meal a culinary masterpiece. It is easy to prepare and versatile, adapting to an endless range of food styles.
As a special offer, New Zealand Lamb is offering one lucky winner the chance to experience its amazing homeland with two Premium Economy flights courtesy of Air New Zealand. Also included is £1,000 spending money to make sure it's the trip of a lifetime!
To enter log on to: www.theultimatelambsandwich.com
For recipe ideas visit online at www.nzlambrecipes.info