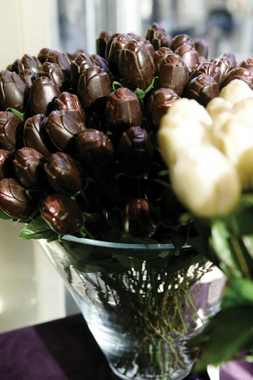 The young chocolatier raised in a mining town has put together a valentine selection exploding with flavour and romance. Paul A Young's collection includes delicate chocolate roses infused with essential oil of English rose, a red heart gift box, a love heart cube and love bites filled with sultry combinations like passion fruit and vanilla or black raspberry liquer.
Chocolate roses
66% pure trinitario dark chocolate with a red pearlescent finish or white chocolate. They cost £9.95 per stem.
Red heart gift box
Two solid hearts in either milk of dark chocolate, one large and one small both finished in provocative deep red with an 'I love you' scroll. Presented in a sultry black box with black tissue. £25.00
Love heart cube
A clear cube filled with milk, dark and white chocolate hearts. Approx 100g. Perfect as a gift or to scatter and create a romantic mood. £10.95
Gift boxes
Paul's seasonal chocolate and truffle collection will include, passion fruit and vanilla, black raspberry liqueur truffle, black cherry and kirsch, sultry Ancho chilli truffle, real Pink champagne truffles and English rose ganache. We've also got filled chocolates for the men; Woodford reserve caramels, Glenmorangie whisky truffle, London pride ale and tobacco ganache. 4 piece box £6.00, 9 piece £13.00, 18 piece £25.00 & 40 piece £50.00.
Paul has appeared on BBC2's Food and Drink, ITV's This Morning, Sky One's Taste and Carlton Food Network. He is a regular guest chef on UK-TV Food's Great Food Live, and gives live demonstrations at various events, including Henrietta Green's food lovers fairs, Covent Garden. In 2006 Paul was invited to be an honorary member of the Academy of Chocolate. Visit online at www.paulayoung.co.uk