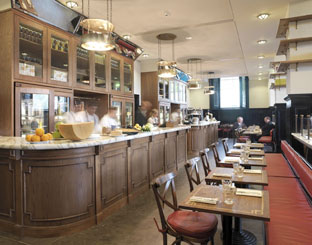 At just £9 for the very fullest of monties, The Great British Breakfast from The National Café proves that value for money need not mean the slightest compromise on quality.
As crafted by the chefs at Oliver Peyton's café de luxe in The National Gallery, this most memorable matutinal meal will beat both the credit crunch and your hunger. Created using the finest ingredients from carefully selected small producers, this unabashed feast features outdoor reared Cumberland sausage and smoked bacon from Rhug Estate, Ramsay's black pudding, free range eggs cooked in the style of your choosing, grilled tomato, mushrooms, baked beans, toast, Peyton and Byrne preserves and unlimited Peyton and Byrne Finest Tea or filter coffee. With a spread of such high calibre for only £9, you will be hard pressed to find such fantastic value anywhere in the capital.
Those in search of a lighter start to the morning will delight in the comprehensive menu of healthy choices such as Bircher muesli with homemade yoghurt, granola with seasonal berries and porridge.
Taking its inspiration from the gallery itself and exuding timeless elegance, the chic, cosmopolitan café is also the perfect place to enjoy consistently good food at reasonably prices right through to supper. Whether your are looking for a spot of lunch, light meals throughout the day, afternoon tea, after-work drinks, dinner or pre- and post-theatre cocktails, The National Café is simply the picture perfect choice.
The National Café, East Wing, The National Gallery, Trafalgar Square, London WC2N 4DN.