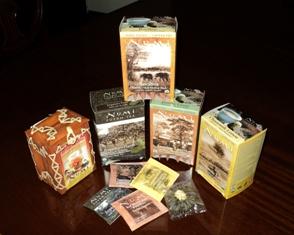 NUMI tea promotes Fairtrade and Organic tea brands. From Oakland, California popular with health and wellbeing aficionados, the Numi tea range is now available to British tea lovers. The company, owned by brother and sister duo Ahmed and Reem, was created in 1999 to bring quality artisan teas to the masses. Numi boast that they use only premium quality and organic tea leaves and blend their teas with real fruits, flowers and herbs rather than adding oils or natural flavourings. Numi also state their commitment to trading fairly with their suppliers and partners. For over ten years on they have been offering all sorts of fruity, herbal and leaf teas, from Earl Grey and Black Teas to flowering, Puerh and herbal varieties and their range is now available in Britain.
We tried some of Numi's range of teas and here is what we thought of them:
Chamomile Lemon, does indeed taste of both, but in addition there is a grassiness and floral notes, it is full flavoured and the fragrance that comes off the cup is delivered in the mouth. As well as being a good late night drink, it is a refreshing brew that you could enjoy any time of day.
Jasmine Green – Monkey King tea has a strong aromatic Jasmine scent which comes through equally well when you taste it. There is a hint of sweetness to it and big floral notes in the mouth and again is a tea you could enjoy any time of day
Rooibos has a great earthiness to it, this black tea has notes of vanilla, as well as a fruity sweetness and a great depth of flavour with an almost creamy feel, giving it a mellow roundness in the mouth.
Emperor's Puerh is a bold black tea that has a roundness, soft on the palate there are malty notes and an earthiness and it has great length, a full bodied and very enjoyable brew.
Their flowering teas, are quite fun to watch unravel in the pot to reveal a leaf blossom in the hot water – assuming you have a glass pot, that is. Of the mixed pack, I have tried the Black Beauty which has a delicate grassy, floral fragrant flavour, there is a sweetness to it and a creamy feel in the mouth. The Midnight Peony is a tea with some body, strength and a depth of flavour, robust, it has a good feel in the mouth and a length of flavour lingering on the tongue.
Numi's range of teas is quite extensive and for more details you should visit their website, through the link below. The teas that I tasted were all extremely good, with vibrant flavours coming through in the mouth. Like some other quality teas, Numi teas can be steeped more than once, I tried each of these on a second steeping and the flavours came through well with all of them, so if you try them, don't throw the bag away after its first use, most of the teas can be re-steeped up to three times.
Numi teas are available from Ocado, at WholeFoods and independent retailers around the country. For wholesale, selected NUMI Teas are available via Tree of Life and Envis. The full range of Numi Teas can be found on line at www.numitea.com