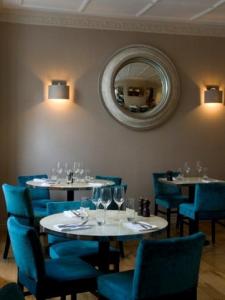 It was quiet this Saturday night in Mayfair, perhaps the end of August and school holidays whisking well-heeled residents to their villas in Provence. At Italian restaurant Tempo in Mayfair, one very unquiet self-appointed dowager of Mayfair was holding forth her opinions. 'It's the dog days of summer, hmmm?" she brayed to Tempo manager Joanna Dydak, a judicious and loyal host who was then subjected to a litany of woes. The woman, apparently a friend of every head chef and restaurateur worth knowing, was admonishing Joanna for the severity of décor.
'People in Mayfair like to feel comfortable when they arrive," she said. 'There's too many hard surfaces – even a table cloth or a carpet would do – it's too cold," she implored. Indeed Tempo, with its barley-coloured walls and splendid turquoise upholstered chairs could seem formal when empty. But as a Regency drawing room in a listed building, its cornices, fittings and curves substituted any lack of warmth. Perhaps the waffle ceiling and square arch could be more sympathetic but they also showed boldness.
These small bold forays appeared in the cooking of Japanese chef Yoshi Yamada's cooking. Yamada has worked at both Restaurant Gordon Ramsay and L'Atelier de Robuchon in Tokyo and describes the food as 'Italian with a Japanese chef, not fusion". And that's true, with only the faintest hint of Japan appearing in what we ate.
We headed out with a handful of chichetti – little tapas-like starters. Top of the pops was the Calabrian pork sausage whose oily pink meat had been scraped out and pasted onto crostini, beautifully spicy and way too small for our liking. The best bit of the seared octopus, parsley, pomegranate and apple was the salad – a mind-blowing confusion of flavours accelerated by salt and lemon so every taste bud, bar umami, was teased. And so simple.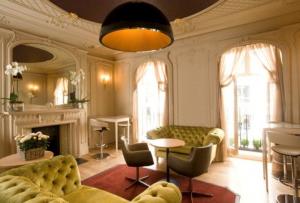 The sweet roasted peppers with burrata Pugliese, while lovely alone, dominated what was an amazing cheese. This mozzarella was divine: creamy, taut, flesh-wobbly and wonderfully salty, almost visceral.
Again, a slight taste imbalance with the deep-fried squid and whitebait together in a paper wrap – they didn't seem freshly-fried and the fishiness of the whitebait overpowered the gentler squid. What were certainly fresh-fried were the gorgeous courgette fritters done in a delicate tempura, a little star.
On to antipasti. We loved the marinated artichoke salad with burrata Pugliese. But the Italian summer tomatoes, like the end of August, had very little summer left in them being cold, hard and with poor flavour. Pretty though, in purple, orange and red.
The lamb rump with fresh borlotti beans was off that night so I had baby chicken with barley and wild rocket. While the charred skin was packed with lemony herby tastes, the corn-fed chicken was too white and spongy. There was also more than was necessary, but the whole thing worked brilliantly with the juicy barley pearls and rocket, a good textural and conceptual mix. We weren't blown away by the autumnal pork belly, olive oil mash and girolles. The belly was tender, the mash nicely anointed but it was quite forgettable. My companion said this: 'The pork belly would have had the peasants of Piedmont relaxing back into their rustic sedias in the comfortable knowledge that the one belly had been transferred to another. Good enough without being outstanding."
For a place in Mayfair, prices are reasonable with cicchetti ranging from £1.50-£4 and mains around £15. The soave we tried was more a drinking wine, though good, so we went with a sauvignon blanc which provided the right weight and acidity for our mains. Good it wasn't sweet because the dolci of peach and elderflower jelly with mascarpone cream was sweet and girly pink like a My Little Pony. But it started to taste of 1970s tinned peaches after a while. Much better was the spanking lemon tart whose caramelly crust was perfect.
It being so quiet, it was impossible not to still hear Self-Important Woman who was now talking about 'the working classes" before proceeding a hushed sermon on the perils of immigration behind her hand. When, by the end of the meal she had started hectoring Joanna on her love life, we could stand no more of the entertainment and left. But I'd love to go back a few months down the line as the place certainly has a good deal of potential. As I'm sure the Mayfair regulars will point out.