Bavarian Beerhouse, Tower Hill, Crutched Friars, London www.bavarianbeerhouse.com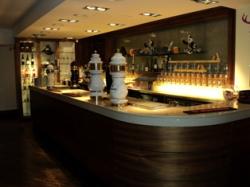 You can tell a lot about a person from their sense of humour, and while, naturally, I take great pleasure in witty wordsmithery and brilliant badinage, my funny bone belongs to sauce. So when I saw that the new Bavarian Beerhouse is located in Crutched Friars, I confess that I allowed myself a small, but heart-felt 'oo-er' and when I saw that their motif was a dirndled wench with enormous jugs, well, my cup truly ranneth over.
So into the Bavarian Beerhouse we went, and it's perhaps a case of firm over function, with plain wooden tables and long benches being very much the mode, although there was a rather regal looking (but occupied) booth which I eyed in a frankly covetous manner. But overall, this is clearly a place for relaxing with friends, with beer, and with enormous food.
Getting into the spirit of things, we decided to share dishes and for starters, well it just had to be sausage. The Nürnberger Bratwürst'l comprised three small but perfectly formed sausages, with sauerkraut, a pretzel and mustard. The sausages had a good flavour and pleasantly rough texture, matched well with the tangy cabbage and mustard. We also had the weißwurst, two Bavarian white sausages, with the ubiquitous pretzel and sweet mustard. There are some who say that presentation is everything… well, they'd love this dish: the sausages are served in a small but quite tall bowl of warm water, and thrust up at the hungry diner in what one might find (if one had such a mind) a rather suggestive way. The traditional way to eat weißwurst is to pulll off the skin (oh, stop), slice them down the middle, and slather with sweet mustard, so that's what we did. The sausages were very good indeed; an almost seductively smooth texture, with a subtle herbiness coming through and paired nicely with the sweet mustard. We cleared both plates, although given what lay ahead of us, that wasn't the best policy.
For mains, we both went for schnitzel, but here this means breaded pork escalope, rather than the more traditional, but perhaps more contentious, veal. Bavarian Beerhouse has its 'Schnitzel Madness' every Monday and Tuesday, and as we were there on a Tuesday, well, it seemed rude not to go for it. The Jäger Schnitzel came with a creamy mushroom sauce, which complemented the meat very well; the breaded cutlet, although not thick, was nicely tender. Our other choice wasn't available, so our lovely server recommended the 'cordon bleu', which was an excellent choice; pork escalope, breadcrumbed and stuffed with ham and emmental cheese, it was delicious. And a special mention for the accompanying french fries, which were almost chips, beautifully crispy on the outside, fluffy on the inside, it was just a shame that we were so stuffed by sausage, we couldn't do the dishes justice.
The Bavarian Beerhouse offers a small but interesting selection of desserts, but we just couldn't: even sharing one would have been more than would, could, or should, have handled, so we had to pass. But next time, I want to try the kaiserschmarm (Bavarian pancake with raisins), which looked very interesting.
Bavarian Beerhouse has a modest wine list, and although that's our usual drink of choice, of course it's all about the beer, so in the interests of thoroughness, we tried some of the those on offer. Perhaps the most interesting of these was the Erdlinger Hefe Dunkel Weißbier; this was a deceptively dark-coloured brew, as the taste was light and refreshing, with a hint of sweetness. We also had the Erdlinger Hefe Weißbier, which had a lovely golden hue, and a crisp lager taste. After my main, I tried the Obstler, a traditional German schnaps, which had a powerful kick of alcohol to it, but a mellowness that made it a nice digestif.
We came away with the sense that the Bavarian Beerhouse can be a lot of fun, and that although they are working hard to offer something authentic, they have their tongue firmly in their cheek – and long may they do so. But don't take my word for it, grab a friend or two and go along… there are certainly wurst ways to spend an evening.