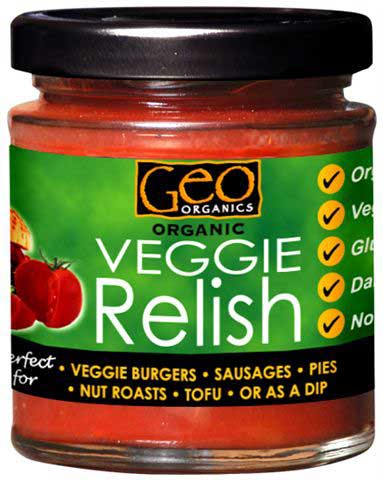 Spruce up your summer dishes with a little help from Geo Organics. Its diverse range of spicy sauces, pickles, chutneys and relishes will perk up your picnics and barbecues and help you serve tongue-tickling sandwiches and salads. All are organic, vegan, gluten free, dairy free, non-GM and approved by the Soil Association.
Best for the Barbecue
· Pep up homemade marinades with a few dashes of Geo Organics Sweet Chilli Sauce (£1.59 for 260g), which delivers a gentle kick of red chillies and cayenne.
· Or save time and cut corners by simply spooning the luxuriously rich Geo Organics' Mexican BBQ Sauce (300g; £2.19) on food half an hour before cooking.
· Both sauces double up as dips – mix with yogurt for a healthy and zesty alternative to high-calorie versions then serve with crudités and breadsticks for dunking.
· Geo Organics' tangy Veggie Relish (200g; £1.79) made from tomatoes, peppers and onions, is a treat with both meat or veggie sausages and burgers.

Super with sandwiches and salads
· Pack a jar of tangy Geo Organics' Piccalilli (280g; £2.19) in your picnic basket to perk up cheese sandwiches and salads.
· Choose a chutney (or three!) to dollop on ploughmans and serve with salads: Geo Organics' Spicy Tomato & Sultana Chutney, Tomato & Apple Chutney and Apple Apricot & Ginger Chutney are very tasty and a little unusual. But if you prefer to be traditional, pick Geo Organics' Sweet Pickle of fresh tomatoes, apples and plump sultanas in a rich malted base with warming spices (all 300g; £1.99).
Find stockists, more information and more products at www.seriouslyorganic.co.uk