Holy Moly, the British brand known for its range of guacamole is now expanding its range of products with the launch of an all-natural, chunky, fruity and refreshing Tomato & Mango Salsa 
The new Tomato & Mango Salsa is created with ripe mangoes, vine-ripened tomatoes, diced red onions, roasted red peppers, coriander, chilli, a dash of lime juice and pinch of salt.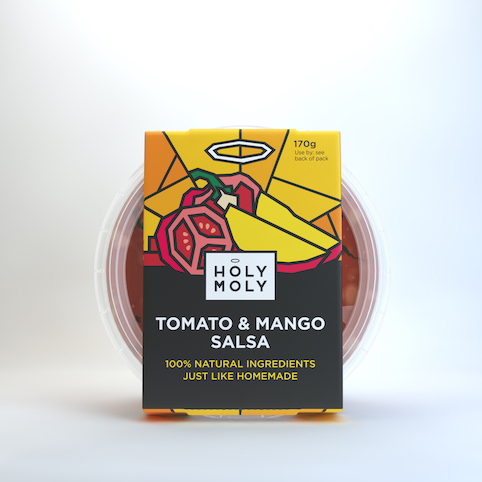 This light dip has a sweet and sour flavour balance, making it a good addition to a family BBQ, Taco Tuesday or Saturday chip and dip night with tortillas.
It's good served with fish, chicken, alongside Tex-Mex and Asian-inspired dishes and curries, as well as an accompaniment to a salad or with crudites.

The Tomato & Mango Salsa also pairs with the Holy Moly range of Guacamoles.The Holy Moly Tomato & Mango Salsa is available at Waitrose with an RRP of £2.50 per 150g tub.
Check out the Holy Moly, Vietnamese Inspired Noodle Salad Recipe by Lucy Lentils below
Holy Moly – Original Guacamole
Holy Moly , is a British brand that is the first to deliver ripe, all-natural and ready-to-eat guacamoles, that taste just like homemade.
Their Original Guacamole is a classic Mexican recipe is made with completely natural ingredients. Almost 90% of the dip is made from nothing but ripe Hass avocado, which is hand-picked and combined with hand-cut chunky fresh tomato, finely diced red onion, a touch of jalapeno chilli, crushed garlic, coriander, a squeeze of lime and a pinch of salt.
Delicious served with tortilla chips, crudites, alongside Chilli Con Carne or packed inside loaded potato skins.


HOLY MOLY, VIETNAMESE INSPIRED NOODLE SALAD RECIPE by Lucy Lentils
Holy Moly Tomato & Mango Salsa has been used to create this delicious, fresh and crunchy salad to incorporate a tangy and punchy flavour along with a Nuoc Cham inspired sauce to coat the noodles.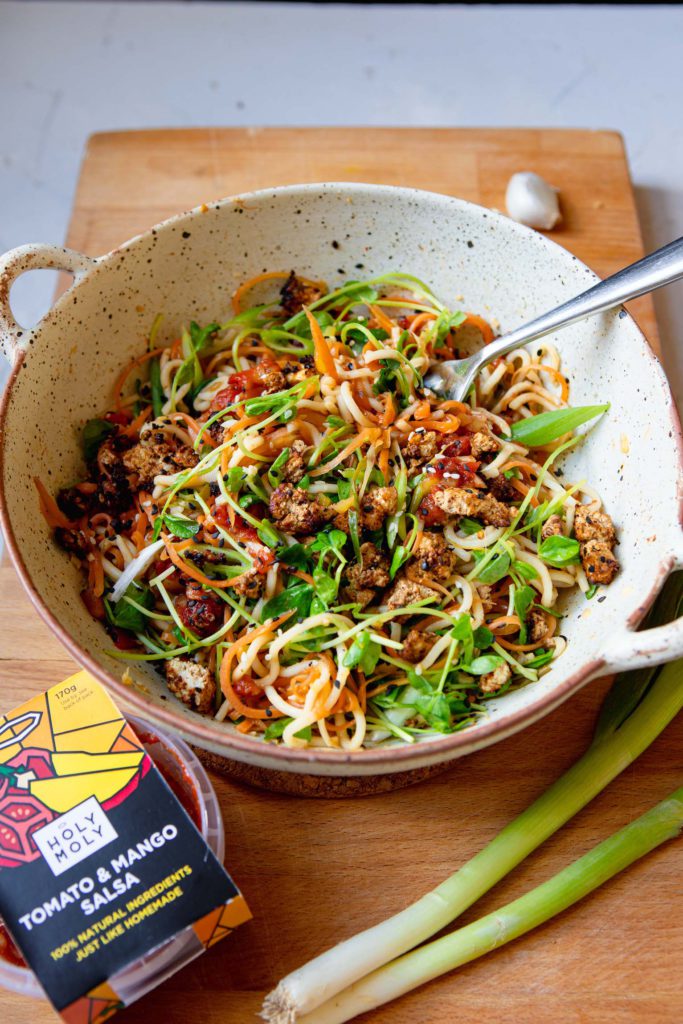 Ingredients
120g noodles (wheat or rice) heated in a bowl of boiling water
1 large carrot
4 spring onions
3-4 tbsp of Holy Moly Tomato & Mango Salsa
For the dipping sauce
2-3 cloves minced garlic
thumb sized piece of ginger, grated
1 tbsp soy sauce
1 tsp tamari or vegan fish sauce
1 tsp brown sugar
1/2 cup water
Sesame seeds to top
Instructions
Start by grating or julienne peeling the carrot and thinly slicing the spring onions & popping in a bowl with the noodles (that have been warmed through)
Mix all of the nuoc cham sauce ingredients together in a bowl then drizzle over the salad
Add a few tsps of the Holy Moly Tomato & Mango Salsa and mix together then pop in a pan on a high heat and toss around to sear off the garlic
Serve up with a few more tsps of the salsa, sprinkle of sesame seeds & enjoy
OPTIONAL TOFU BEEF
If you want to make this more of a filling salad, I have a tofu 'beef' recipe that you can add.
1 Block of firm tofu (around 250g)
1 tbsp tamari
1 tbsp sesame oil
1 tsp smoked paprika
1 tsp cumin
1/2 tsp chilli powder
Simply mix all of the ingredients together then crumble the tofu, toss in the dressing then add to a non stick pan and fry until crispy"