It's an interactive experience where you get to taste the featured cheeses, that have been delivered to you, learn and have the opportunity to ask questions about them to the knowledgeable cheesemonger taking you through the tasting.
Each tasting lasts about an hour and costs £45.
The price of the tastings includes a selection of four to five cheeses to taste, a pack of Paxton & Whitfield crackers, the delivery of the pack to your home (there is an additional delivery charge for Highlands & Islands addresses) and entry to the tasting via a zoom link. The pack is plenty for four people to enjoy,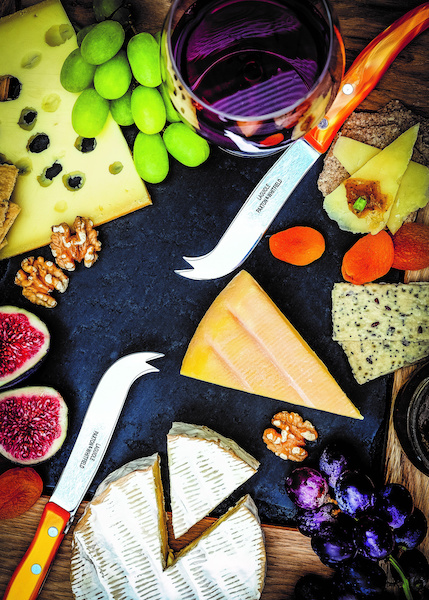 Each cheese tasting delivery is carefully hand-cut, wrapped, packed by expert cheesemongers and delivered in a Paxton & Whitfield branded transit box.
The pack is insulated with Woolcool, a revolutionary, totally compostable/biodegradable insulation and chilled with fully recyclable, re-usable ice packs. The cheese box arrives before the event and attendees are emailed tasting notes ahead of the tasting.
A full list of the cheese tastings is below and they can all be purchased from www.paxtonandwhitfield.co.uk
Paxton & Whitfield online cheese tastings schedule:
14th March – Mother's Day Tasting – Expert cheesemonger and Paxton's quality control manager Jazz Reeves will be talking you through a cheese tasting for Mothers' Day on Sunday 14th March at 4pm, tasting some of the finest artisan cheeses pioneered by women cheesemakers.
19th March – Tour de France – London manager and expert cheesemonger Annie Meakin will take you on a tour of delicious French cheeses at 7pm on Friday 19th March.
26th March – Spring Cheese – Perfect for spring goat and sheep's milk cheese lovers, Paxton's cheese buyer and Academy of Cheese coach Dan Bliss will guide you through the tasting at 7pm on Friday 26th March.
9th April – English Cheese Lovers -Everything you wanted to ask about English cheese but were afraid to ask. Join expert cheesemonger and Paxton's quality control manager Jazz Reeves to learn all you can about English cheese at 7pm on Friday 9th April.
30th April – West Country Cheese -Join Paxton's head of trade, expert cheesemonger, cheese judge and resident cheese guru Ruth Holbrook to learn more about the glorious cheeses of the West Country at 7pm on Friday 30th April.
25th June – Father's Day – A delicious range of cheeses perfect for dad to taste as a Father's Day treat at 7pm on Friday 25th June. A unique gift for dad.