Everyone loves a macaron. These crispy discs of sugar and fat have seen a remarkable longevity in today's fast-moving, fickle-minded food-loving public.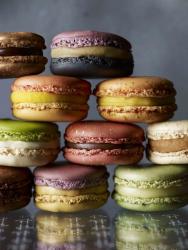 Despite the trends and the marketing, I do not believe that all macarons were created equal. Some lack that je ne sais quoi that makes eating the best macaron an almost holy moment.
The newest kid on the macaron block is Pierre Hermé. While I haven't tried these ones, these guys specialise in macarons so I'd take a leap and say they're probably pretty good. They love to get playful with their flavours, and I'm not talking about salted caramel here, I'm talking about some truly innovative concoctions.
The Classics:
– Dark Porcelana Chocolate
– Mogador (Milk Chocolate & Passion fruit)
– Rose
– Salted Butter Caramel
The Autumn/Winter flavours:
– Caraquillo (Chocolate, Coffee & Aniseed) – NEW
– Sur Del Lago Chocolate – NEW
– Crème Brûlée
– Americano (Orange, Campari & Grapefruit)
– Blackcurrant
– Coffee
New Creations :
Infiniment Marron Glacé Macaron – New Creation
Chocolate & Foie Gras Macaron – New Creation

To get your hands on some Pierre Herme macarons, you can go to their Belgravia Boutique, but you can also get them in Selfidges.
Pierre Herme 13 Lowndes Street, London SW1, www.pierreherme.com