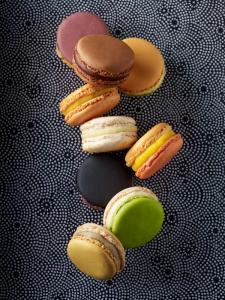 If you are looking for an amazing indulgence this Christmas, or a novel gift idea, exclusive seasonal creations from renowned French Pâtissier Pierre Hermé might just fit the bill. Pierre Hermé has created a selection of seasonal additions to his macaron collection, including the rich decadent Chocolat & Foie Gras, or with a more traditional approach, Figue, Eglantine & Foie Gras (Fig, Rosehip & Foie Gras). Also it is only at this time of year that the Truffe Blanche & Noisette (White Truffle & Hazelnut) is created.
For our own sheer indulgence we sampled a box of Pierre Hermé macarons and decadent little confections they are too. These crumbly little delights each comprised of two macaron shells, sandwiched together by an intensely divine cream filling. With every bite (and each macaron is about three or four bites big) you first get the crumble of the shell breaking up in your mouth, then the shell and the boldly flavoured cream filling mix together giving your tastebuds a sensual experience, they are exceptionally good.
There are some inspired creations here, for example the Depayse, matcha green tea, azuki red bean, lime and ginger, which has a lovely fragrant flavour that is given some body by the bean, together with a little sharpness and heat from the lime and ginger. The Infiniment Chocolat, is indeed a seriously chocolaty mouthful, leaving you with the flavour lingering, you absolutely know you've had chocolate. The Coing & Rose, quince and rose, has a great tangy floral fragrance from those two flavours mixing well together. The Infiniment Caramel, salted butter caramel, is a deep caramel mouthful, the saltiness just showing through in its finish. The Chuao, chocolate and blackcurrant, is exceptionally good, the blackcurrant a background to the chocolate but you know it's there and it comes through well in your mouth. The Pietra, hazelnut praline, gives the palate a strong hazelnut hit, its divinely creamy centre sweet, but not overly so. And the Mogador, milk chocolate and passion fruit, is a great combination, the sharpness of the passion fruit coming through the initial chocolate flavour. We could go on, not a single one was a disappointment.
These amazingly decadent creations would make a great gift, for Christmas, or any occasion really. Much as we love chocolate and chocolates, indeed anything chocolaty, they are an excellent alternative to the traditional box of chocolates as a gift and they show a little originality of thought.
Pierre Hermé's boutique is in London's Belgravia and has a selection of Christmas favourites including Marrons Glacés, Stollen and Panettone for customers to select from. These in addition to the Pierre Hermé collection of chocolates, pâtes de fruits and of course these lovely macarons. The box we had contained 16 macarons, it sells at £31 and can be purchased direct from the shop, the details of which are below. We loved them, and they would undoubtedly make an exceptionally good gift for that sweet-toothed loved on in your life. Alternatively, you might just want to have a box secreted away as a special treat for the family after lunch on Christmas Day, or to lift Boxing Day.
Pierre Hermé, 13 Lowndes Street, Belgravia, London Tel: 020 7284 0317