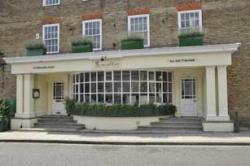 I think it was when the keen young waiter gamely attempted to interest us in his breadbasket for around the sixth time that P's patience finally snapped. 'If he reappears with that bread one more time,' she snarled to me sotto voce, 'he's going to find himself with a mini baguette in an unusual place.'
It's hard to be cruel to someone obviously trying so hard and, to be fair, the bread was high quality. Like endless glass refilling though, relentless bread touting can soon begin to wear on the nerves.
This was the only negative part to dinner at Roussillon under new chef Dan Gill formerly at Midsummer House and Le Manoir Aux Quat Saisons. His arrival at Roussillon, after previous chef Alex Gauthier upped and went to Soho, has galvanised the generally Francophile menu particularly with innovative ways using vegetables. In fact you can have an award -winning vegetarian tasting menu 'Menu Legumes', something not easy to find in London and especially not at this level.
Tucked away in a side street, in what was once apparently a pub in the 60s, Roussillon is a neighbourhood restaurant serving some pretty well off neighbours. Although appearing a bit stuffy, what with two types of butter, salted and unsalted, a frippery that always excites the novice eater but which to me always seems rather daft, it's actually quite relaxed and friendly.
The room is rather brightly lit, which I suppose is better than being so moody you have to read the menu by the light of Blackberry. It's the level of lighting you might have at home, just a tad too harsh to be romantic.
Nonetheless I am amorously inclined towards the menu. No individual dish prices, simply £60 for three courses, which makes things simple if you're on a date, as some couples seem to be. You can spot them because they actually seem to be interested in one another, while more established couples surreptitiously look at their watches, silently calculating how long they can leave the babysitter before she demands extra money and a cab home.
And so as the bread man fades away, we get our starters. Coddled egg and pumpkin, blue cheese and red onion jam for me, as it sounded so unusual. It's certainly autumnal in that it's a bit on the chilly side. Maybe that's how chef serves it, but I felt it spoilt the dish. Lukewarm egg in lukewarm pumpkin leaves me cold. A shame because the blue cheese against the pumpkin was a good contrast and overall it was a colourful, challenging and fun dish for vegetarians, who often have to make do with far less. A bit more salt wouldn't have gone amiss though.
Pan seared hand dived Scottish scallops apple puree, ginger and fresh apple was more traditional. Nothing challenging there, old friends reunited in fact. The presentation and the texture contrasts were what won us over; crispy batons of fresh apple, a smooth puree and expertly cooked scallops that were a decent size and well caramelised. Ginger and apple always work together and here was no exception.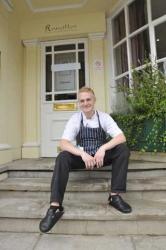 There's lots of fish on the menu at Roussillon, fish being the halfway house between meat eating and vegetarianism. Pan roasted Scottish cod and mussels, cauliflower couscous and a la plancha 'taste and textures of the sea' was perfectly executed, the fish well seared, the delicious flesh flaking to the fork.
Cauliflower couscous was an unusual idea but it worked, better still were the thin slices of 'plancha'd' cauliflower dotted about. The only thing that jarred was the menu description. I'm sure that Heston also has 'tastes and textures of the sea' on his menu, but we expect that kind of thing from the clown prince of Waitrose. Here it seemed out of place and unnecessary because the dish didn't need marketing support.
Roasted highland venison, poached blackberries celeriac and white chocolate puree, smoked bacon and cabbage, chanterelles, venison and blackberry jus certainly wasn't short on ingredients, but with venison the main thing you're looking at is the cooking. Virtually fat free, venison can overcook to toughness in seconds. Roussillon got it bang on right, who wants dull old steak when you can have venison? A great British dish.
Everything that came with the meat made sense, celeriac with its earthy tones, the blackberries that the animal may well have been eating, the simple honesty of well-cooked cabbage with smoked bacon to add that extra dimension. I'd have left out the chocolate, I don't like chocolate with my mains but that's personal.
Spiced carrot cake, white chocolate ganache, carrot and orange sorbet is rather a brave thing to put on a fine dining menu, yet carrot cake can be a thing of beauty. Ask any hippie. Here it was a trifle dry, but the sorbet was a loosener and the ganache a touch of class.
So Roussillon is a ship of state, slightly dated in looks and service but eminently seaworthy all the same. The food is high quality, imaginative and well-priced for the area. Oh, and do try the bread.