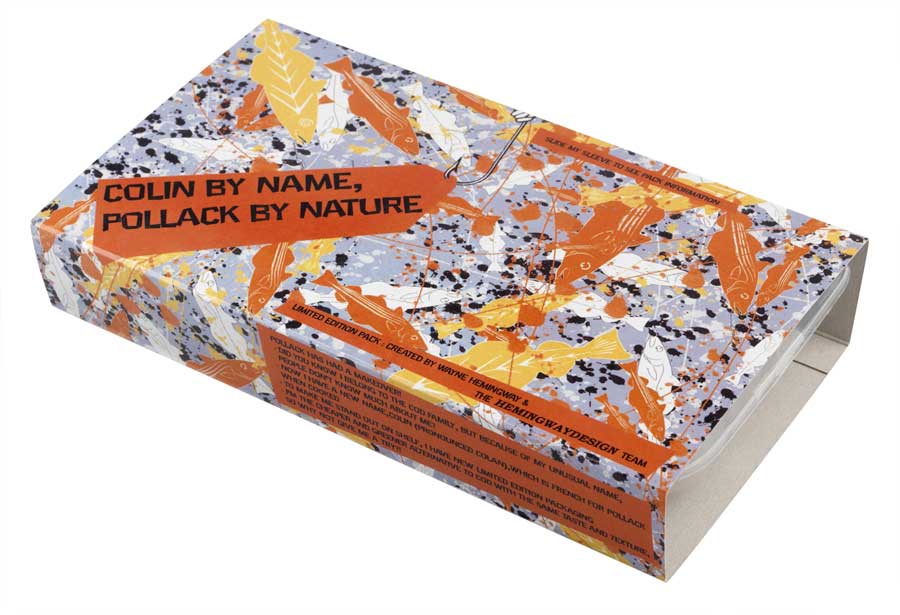 No it's not a new policy toward Eastern Europeans but an attempt to make the old fish a bit sexier.
Sainsbury's has launched a nationwide campaign to address dwindling cod stocks by encouraging the British public to try pollack, a tasty, cheaper and more sustainable alternative to cod. To make pollack more appealing to UK shoppers, Sainsbury's has appointed a panel of experts to give the fish a complete makeover; including giving the species a new name, creating limited edition packaging designed by Wayne Hemingway, the man who made horrible 70's design acceptable again, and the Hemingway Design team, as well as using inspiring recipes from London's oldest French restaurant, Mon Plaisir. 

Although abundant in UK waters, it's the French who have a love affair with UK pollack, importing over 70% of it from our shores every year. Taking inspiration from across the channel, Sainsbury's has renamed the fish to 'Colin' (pronounced 'Colan') which is French for pollack when cooked. The new name is being trialled after insight from Sainsbury's revealed that customers were embarrassed asking for pollack.

Along with the new name, 'Colin' has also been given a new look, thanks to Red or Dead founder Wayne Hemingway. Hemingway's limited edition 'Colin' packaging will be printed on 2,000 packs and trialled in ten UK stores. 



Wayne Hemingway, says: 'As a keen fisherman it seems daft that pollack isn't more popular, particularly when it's readily available off our own coast, tastes great and is cheaper than cod. Image really is everything; so to help 'Colin' stand out on-shelf we've used bold, bright colours and a design that is cheekily inspired by another well-known pollack (artist Jackson Pollack). The new-look 'Colin' sleeve will be the star of the Sainsbury's store, we expect coach-loads to travel by land and sea to see it so I'd suggest you either keep it safely and sell it in on e-Bay in the next century, or just take it home and enjoy this really tasty fish!"
We suppose what he means is that he, Hemingway, is a 'keen fisherman' not the Pollack.