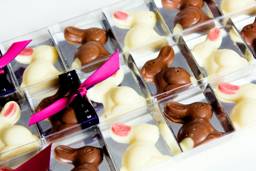 Raoul's Deli in Maida Vale has just received the limited edition Easter collection from renowned James Chocolates, the handcrafted treats which are respected by chocolate connoisseurs world wide.
James Chocolates are the ideal present for friends and family this Easter: their unique flavours and beautiful presentation will not disappoint. James's passion for exquisite food triggered his hand-made chocolate business in 1995 and he has since experimented with and pioneered blends of the finest grades of chocolate couverture (chocolate base) from Callebaut in Belgium and Valrhona in France.
His small, dedicated team of chocolate professionals crafts around 150 different chocolates in the village of Evercreech in Somerset and continually develop original flavours and decorations, such as their special Easter favourite – milk and white bunny rabbits which have hand painted pink ears and white tails.
Raoul's Café and deli Maida Vale, 13 Clifton Road, London W9 1SZ