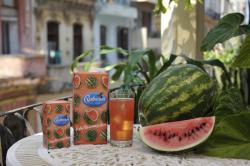 Having never been a fan of watermelon, the fruit had always seemed rather lacking in body and flavour; I was pleasantly surprised by Rubicon's Watermelon juice, their latest product. Made from juice concentrate, with some added sugar, which enhances the flavour, and served chilled, Rubicon's Watermelon juice drink is lighter than most fruit juice drinks and really refreshing, with slight strawberry overtones to it.
We also tried the drink in a two cocktails, the first, a non-alcoholic Watermelon cooler was very successful. Made with 300ml watermelon juice, 20ml elderflower cordial and the Juice of a quarter of a lemon, stirred with plenty of ice, this made a great alternative to alcohol laced drinks. The Watermelon flavour came through strongly but was balanced by the other ingredients that give the drink an aromatic flavour, with a good acidic edge. We also tried a Pink Paradise, made with 50ml gin, 100ml watermelon juice and 75ml pink grapefruit juice; the watermelon juice and gin shaken with ice, and then topped up with pink grapefruit juice to form a layer on top of the drink, adding a wedge of lime for decoration. It makes a very pleasant fruity cocktail in which all three favours come through, the grapefruit juice and the gin taking the edge off the sweetness of the watermelon, and certainly worth trying – if you like cocktails that is.
Rubicon also recommend using the drink to make strawberry and watermelon ice lollies or using it as an ingredient in a fruit trifle. They also advocate its use in savoury dishes, as an ingredient for a meat marinade or a dressing for a summer salad. We tried the dressing, using 6 tbsp of the drink with 1 tsp of mustard and 3 tbsp olive oil, finely chopped red chilli (optional), chives and black pepper beaten togewther, and whilst it retained the watermelon flavour, the heat from the mustard, pepper and chilli gave it a piquancy that went well with a prawn salad.
As well as this new product, we decided to sample the lychee juice drink, which again is sweetened, but made a great lychee fruit cocktail (the recipe for which we drew down from the net) with two parts dry white wine, to one part lychee drink and one part white rum, shaken over ice with a dash of lime juice.