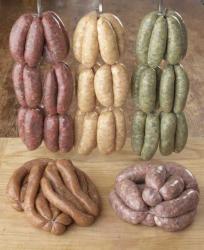 Our favourite butchers in London, David House and Justin Preston of Allens of Mayfair, are turning their expert gaze onto Simply Real Sausages, one of the finest sausage makers in London for the past twenty years.
David and Justin took over Simply Real Sausages a year ago and while the quality of the product was never in question, they have used this time to build up the distribution. Simply Real Sausages and burgers are now available from some of the finest food shops and butchers in London and the South East, including Harrods Food Hall and restaurants and hotels including The Dorchester and Soho House Group. Furthermore, Simply Real Sausages are now available nationwide for the first time through their brand new website – www.simplyrealsausagesonline.co.uk
Nicholas Mann, master sausage maker has been with the company since the age of fifteen. He and his team use only the finest, prime pork shoulder from outdoor reared pigs and natural skins to ensure a top quality sausage. Steak is used for the beef burgers and again its British. The sausages are made in small batches to order and the new online delivery system means that sausages made in the morning are dispatched on the same day to ensure maximum freshness.
The Simply Real Sausages range has been greatly expanded and now features over 40 varieties as well as beef burgers in four different weights. Seasonal produce is often added and for autumn and winter, these will include: Pork and chestnut, Pork, cranberry sage and Stilton and Pork, prune and cognac.
Nicholas and the team have also taken some of the best recipes from around the country and created their own versions. Traditionally sausages originated with butchers from county to county using a selection of celebrated local produce, hence most counties having their own converted variety. The British range includes Somerset (pork apple and cider), Lincolnshire (pork, sage and mustard seeds) and Glamorgan (pork, leek and ginger). The Gourmet selection includes sausages with strong, gamey flavours, such as Pheasant, parsley and thyme, Steak and Ale and Venison with mushroom. There is also an extensive 'world' selection as well as a fine range of vegetarian sausages including Mushroom and tarragon, Feta and olive and Algerian sausages spiced with harissa paste.
Simply Real Sausages are priced at £3.75 for a pack of six (min weight 450g), with the Gourmet range priced at £4.75 for a pack. Available to order from: www.simplyrealsausagesonline.co.uk