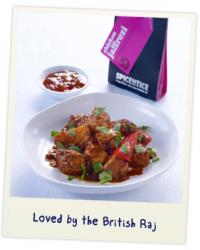 Everyone in the UK likes a bit of spice, it's something we'd embraced wholeheartedly even before we became so wonderfully multicultural. Quite why this country, with its history of bland food suddenly went mad for chili is a bit of a mystery, presumably the first wave of immigrants broke a barrier and we were like miners emerging into daylight, ecstatic at our release from taste prison.
Trouble is though we buy the spices, use them a bit and then leave the jar in the cupboard until the flavours have all gone and the powder is indistinguishable from dust. What we need are spices that are in little packets so that we get fresh flavour every time.
And so it was with some excitement that we broke open the box of samples from Spicentice and little packets of spice mixtures tumbled to the floor all around us. There must be around 24 spice kits in the range and we seemed to be knee deep in most of them. People pounced on the ones that suited their psyche and no one was suprised when the IT man went for the chilli con carne spice kit iwith 'mayan' spiced chocolate (made from 46% cocoa nibs with muscovado sugar, cocoa butter, ancho chilli, achiote, allspice, vanilla and seasalt).
Also tempting were Green Thai Curry, Peri Peri Chicken, Lamb Rogan Josh, Moroccan Tagine and Fajitas. All the packs feature simple step by step guides and a handy shopping list for the ingredients needed such as meat and vegetables, which you can take to the shops with you.
We found them all to be pretty good and certainly time-saving. The only duffer was the Thai Green Curry where the included piece of lemon grass was so dessicated as to be beyond saving; there wasn't a morsel of flavour to be coaxed out of it.
The SpiceKits are available as gift sets, which seems a very good idea for Xmas.
And there's the rub
Spicentice have also started producing rather cute little tins of rubs too. The tins contain a packet of rub mix – seven kinds in all including Harissa, ( a Gold Award Taste Winner), Barbecue, Herby Fish and Italian – and the tins have a good airtight lid so once the packet is open it should remain fairly fresh for a few weeks.
You can mix the rubs with breadcrumbs for a topping, with oil for a marinade or even sprinkle on toast for a bit of a treat and dads will love carting the empty tins off the shed to put grommets in, or something.
The lads at Spicentice have a nice little product line going and a good sense of fun in doing it. I still have problems pronouncing Spicentice but that's not going to stop me working my way through the entire range over the next few months.
Spice kits around £1.99 each. Rubs around £3.99 available to buy online at www.spicentice.com as well at Harrods, Budgens, ASDA and many smaller shops too