'The Egg!' I hiss triumphantly to my companion, tripping all over myself to get to said item. Seconds later, I'm sinking my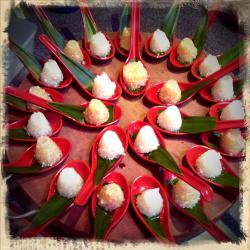 teeth into a half-ovoid of sheer Chinese gustatory pleasure- all gooey sunset yolk, firm soy-poached white and the salty spike of fish roe. Simple. Stunning. Simply stunning…'Leave off you greedy munter,' says the mate,'There'll be none left for anyone else.'
That, I retort, is tough. When the grub's this good and the room's this crowded, it's every piggy for himself. Even if it does mean ruining a keen snapper's killer photo op by nabbing a forkful of radicchio, Gorgonzola and mascarpone lasagne from the centre of the platter. Or even ruining your own face by smearing it with squid ink from ambrosial tarts filled with chilli meat, calamari and olive oil'caviar'.
We're here for sipping, scoffing and a screening- the latter courtesy of Italian supperclub Backdoor Kitchen's hosts Roberto and Fabio, who've made a series of short documentaries chronicling the adventures of their supperclub peers. Even to us sceptics fearful of an evening of'hi-concept' nonsense, they're well shot, entertaining and a whole lot less pretentious than expected. Which is a pleasant surprise.
Whetting our proverbial whistles are the girls from A Grape Night In, who invite us to vote for the top canapé/quaff combo with coloured poker chips. I rather like the Tempranillo with Pistachio Rose's sweet naan dunked in chai-spiced chocolate, but the mate's money is on a South-Asian lettuce leaf parcel, mirth-makingly entitled'saliva chicken', teamed with the herby Grenache Blanc. Moscatel, she reckons, hits the spot with a Filipeno sago pud, but I think it flatters Asma Khan's sweetly delicious malai prawn curry.
And that contention is exactly what the girls want. We're here, they say, to tell you about the wines. Now you tell us how you
enjoy them best. As refreshing in their approach as the tipples they've brought along. In our search for the perfect pairing, Himalayan-style samosas, cheesy Peruvian potato cakes and vegetable achar on Malay-style parathas also find their way down our necks. The diverse canapés provide a snapshot of the food on offer from various supperclubs as part of the forthcoming Sunday Feasts series.
Ah- Sunday. The day to rest, relax, eat, catch up and do nothing much beyond. In that vein, the programme will give curious diners the chance to chow down on a meal'in the style of' a given country's typical Sunday feast. From an innovative Peruvian-Japanese fusion menu to an anachronistic'British Raj' dinner, a raft of seasoned hosts will fill the bellies of their guests, whose sole obligation is to bring a bottle and break bread with fellow foodies. Whichever evening takes your fancy, just hope you're not seated next to me- you won't get much of that bread.
Sunday Supperclubs are running for the next three months at School of Wok, 61 Chandos Place, WC2N 4HG, www.schoolofwok.co.uk. For full schedule and info, visit www.edibleexperiences.com/sunday-feasts.