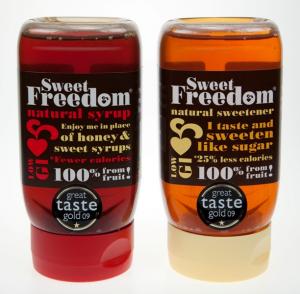 For the second year running, Sweet Freedom was awarded Gold stars in the 2010 Great Taste Awards, both in the Sweet Ingredients and Diabetic categories. Both versions of Sweet Freedom are healthier natural alternative to sugar made entirely from fruit – apple, grape and carob. The brainchild of friends Tina Michelucci and Deborah Pyner, both passionate cooks with a love of natural foods. They spent several years researching sugars and sweeteners before developing Sweet Freedom over a three year period, they also have four low GL healthy eating books published by Harper Collins.
There are two Sweet Freedom products, the sweetener and the syrup, we sampled each of them. The Sweetener whilst sweet as you would imagine has a fruity slightly acidic edge to it when tasted on its own or on buttered toast – as we tried it. We also used it as the sweetening agent for a pannacotta and it worked perfectly. The syrup has a richer, deeper flavour, much like some honeys but that slight acidic tang comes through even in this deeper richer product. Both versions have good clean distinctive flavours and are ideal for a wide variety of uses.
Those health-conscious people among us who are looking to reduce their sugar intake, or that of their family, without resorting to the use of artificial sweeteners, which let's face it, often have a rather unpleasant aftertaste, might like to give it a try. The Sweet Freedom sweetener tastes like sugar when used as an ingredient but has 25% fewer calories and you need use 25 – 50% less gram for gram than sugar for the same level of sweetness. Due to its low Glycaemic Load Sweet Freedom doesn't cause a sugar rush or subsequent energy crash making it a good choice for diabetics. It also contains only 25g of fructose per 100g lower than honey which has around 40g and agave syrup that has around 90g.
Both the sweetener and the syrup have multi-purpose uses, the sweetener has a sugar-like taste that can be used for everything from sweetening tea and coffee through to replacing sugar in cooking and baking, as well as an alternative to honey. The syrup is darker and richer – great to spread on toast or use on porridge and pancakes, or anywhere you'd prefer a deeper flavour.
Sweet Freedom is available in drip free 300ml squeezy bottles from Tesco, Waitrose, Ocado, Holland & Barrett, Costco and health food stores nationwide, with a RRP £2.99.
For more information and recipes visit: www.sweetfreedom.co.uk
For more information on eating a low GL diet based on natural foods visit: www.dietfreedom.co.uk