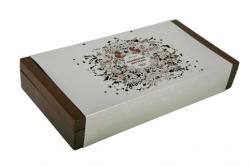 Hard to believe that Thorntons chocolate is 100 years old but they are celebrating their centenary of creating great choccy treats with the launch of Centenary boxes, bars and bags.
The new Centenary Special Edition box at £35 is impressive, a collection of 100 of Thorntons famous heritage recipe chocolates, along with some new, innovative flavours to tickle the taste buds. The range of ideas is very impressive, more the sort of thing you expect to find in a Belgian chocolatier than a High Street shop.
Throughout the year Thorntons will also be launching three Limited Edition Chocolate Blocks in classic British flavours. Watch out for Cloudy Lemonade, Bakewell Tart and English Rose. The lemonade we tried and it was very impressive.
Thorntons Master Chocolatier, Keith Hurdman, has also created an exclusive limited edition Wonder box with a mix of heritage recipe and contemporary chocolates. This £100 presentation box of handmade chocolates, created with high percentage chocolate, includes flavours such as caramel, nougatine gianduja, lime & chilli, raspberry & rose, almond, pralines and a bar of Crudo chocolate as it would have been made 100 years ago when Thorntons opened their first store. Only 250 boxes will be sold throughout the year at www.thorntons.co.uk and the box even when emptied of its jewels is a work of art in itself.
2011 also sees the return of old Thorntons' favourites, including bags of Chocolate Eclairs, Rosy Apples and Rhubarb and Custards, priced at just 100p each.
Thorntons is famous for its Special Toffee so in late Spring watch out for a collectable ceramic designed to look like Thorntons first ever Chocolate Kabin. The ceramic comes with three bags of Thorntons Special Toffee, a certificate of authentication and a limited number will be on sale for £12.99.