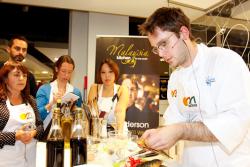 After his MasterChef triumph earlier this year, Tim Anderson's been beavering away in some of the best kitchens in the UK, including the Rouxs' Le Gavroche and Blumenthal's Fat Duck. And, as if working in some of the country's best known restaurants wasn't pressure enough, he's been doing a little promo-ing here and there too.
He might market himself as a 'Viking' 'Wisconsonite' and 'Japanophile' (his words), but he's also got a bit of an Asian food fetish. One of his (not so) little promotion projects has been Malaysia Kitchen, according to the gumph 'a worldwide celebration of Malaysian cuisine'.
Foodepedia met the American at Waitrose's shiny training kitchens off Finchley Road where he showed us, and a few lucky Malaysian Kitchen competition winners how to cook a couple of Malay dishes with a Timy twist.
Clearly comfortable cooking in front of an audience Tim threw together a three-course meal with MasterChef-winner ease, speaking to his impressed audience while he did it, explaining a few of the vital Malaysian ingredients you need to cook some pretty impressive, authentic food. Belacan is a strong and pretty smelly shrimp paste, sambal, a type of chilli sauce and two Malaysian soy sauces – lemak manis and lemak masin.
Tim shows us all how to make "Otak Otak" Mousse with Gurnard and Scallops, Nasi Goreng with Smoked Mackerel and Mini Lychee Tart Tatin, then I failed miserably at reproducing them. Still, it was fun. Have a go yourself with a couple of the recipes below.
For more recipes and further information on future Malaysia Kitchen events log on to their website here. For information on a few Malay ingredients, have a look at Malay Taste and Tean's Gourmet.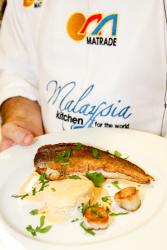 "Otak Otak" Mousse with Gurnard and Scallops
Serves 4
For the mousse
200ml coconut milk
4 eggs
4 egg whites
1 inch galangal
8 candlenuts
4 kaffir lime leaves
1/4 white onion
2 cloves garlic
1/4 tsp ground coriander
1/2 tsp belacan
2 inches lemongrass
pinch white pepper
Place the coconut milk, galangal, candlenuts, kaffir lime leaves, onion, garlic, coriander, belacan, lemongrass, and white pepper in a food processor and blitz into small chunks. Bring this mixture to a simmer, then leave to infuse for 1 hour, or until the mixture is cool. Strain through a fine sieve and beat in the whole eggs. Beat the whites to soft peaks and fold this into the coconut mixture. Generously butter four small ramekins and pour in the mixture, to about 5mm below the rim. Cover the ramekins with tin foil and pierce with a toothpick or fork, then set in a baking tray and fill halfway up with boiling water. Steam in a 160ºC oven for 20-25 minutes, until the mousses have set and a skewer or knife inserted into the center comes out clean.
For the cream sauce
2 tsp sambal
200ml coconut milk
2 inches lemongrass, chopped
75ml single cream
3 kaffir lime leaves
Bring all ingredients to the boil, then reduce by half and strain.
4 gurnard fillets, skinned (about 500g)
20 small scallops or 4 large scallops, corals removed
20g butter
2 tbsp coriander leaves
Heat the butter in a pan until it is just foaming (do not let it brown), then add the scallops and gurnard. Cook for three minutes on each side (if using large scallops, transfer to a 200ºC oven for 5 minutes to finish cooking). To serve, turn out the mousse onto a plate, and serve the fish and scallops alongside. Spoon sauce over the mousse and seafood and garnish with chopped coriander leaves.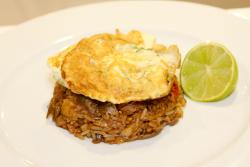 Nasi Goreng with Smoked Mackerel
Serves 2
2 cups cooked Malaysian rice (day old rice works best)
2 tbsp vegetable oil
1 tsp belacan
1 shallot
2 kaffir lime leaves
2 cloves garlic
1 small red chili
1/2 tsp sambal
100g oyster mushrooms
1 tbsp kicap lemak manis
1 tbsp kicap lemak masin
2 eggs
1 tbsp vegetable oil
1 spring onion
300g smoked mackerel, skin removed
Roughly chop the shallot and garlic and finely slice the chilli. Remove and discard the "spines" from the kaffir lime leaves and slice them into a fine julienne. In a mortar, pound half the chopped shallot and garlic along with half the chilli, kaffir lime leaves, sambal, and belacan into a paste. Roughly tear or chop the mackerel into bite-size chunks. Heat the oil in a wok or deep frying pan over very high heat, then add the belacan paste and the remaining shallots and garlic. Cook for about 3 minutes, stirring often to ensure nothing catches. Add the mushrooms and about 250g mackerel and cook for another 2 minutes to extract some of the oil from the fish. Add the kicap lemaks to make a sauce, then add the rice, breaking up any clumps. Stir thoroughly to ensure everything is coated with sauce. Meanwhile, finely slice the spring onion and chop the remaining mackerel into a small mince. Beat the mackerel, half the spring onion, and remaining chilli into the eggs, and fry in hot oil until set. Serve the omelette on top of the fried rice and garnish with spring onion.