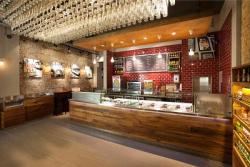 Branches in Islington, Oxford Circus, Southwark, Leadenhall Market, Canary Wharf, Hammersmith and Stratford www.tortilla.co.uk
Mexican, you say? Oh goody, that'll be mediocre, heavy, sloppy meals then, plus refried beans you could make walls with, scraps of lettuce thrown around a plate like a crappy Turner prize exhibit (because, well, you've got to have something green in there) and bog-standard, bland meat in a generic, too-sweet sauce with about as much character as a doorknob.
Tortilla promises it is different. On its website, it claims to be the 'home of the best tacos and burritos in London'. It's a big statement, and although I can't be the one to say it is, what I can tell you is that it is an inexpensive and satisfying place to eat. We visited the Hammersmith branch on a gusty autumn night and it was perfect warm-you-up food. There are bare red brick walls, dark wood panels and bright, inviting splashes of colours – although we did make the mistake of stupidly sitting ourselves right under the restaurant's air conditioning unit before we tucked into our dinner. This is not a place aiming at high-end custom – this is quick, fun, and filling eating. Ariba-ariba! etc etc.
Ordering is simple – go to the front counter and move along with the erm, servers (?) while they point out what you can have and they put it all in a wrap. Find a table and fill face. And fill it I did. My burrito was about as thick as my forearm and posed quite an eating dilemma as it was difficult to know where to start – they suggest you unwrap the foil at one end and attack from there. It's quite a feat this burrito, like a wrap Tardis, there's a LOT inside.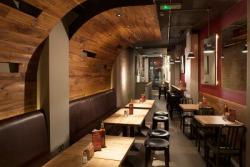 I pipped for the excellent three-hour slow cooked braised pork while my eating companion went for steak. As with many slow-cooked porks, there was no dryness here and the steak, I was told, was just as good. You can choose to have a burrito or a taco, and then either of two different types of rice, or none at all for a 'naked burrito/taco' (bleugh). Add to that pinto beans, black beans, or onions and peppers, the pork, steak or grilled chicken, one of two lettuces, cheese, guacamole and a combination of four sauces. So there are plenty of mix and match options.
We tried the four sauces with some tortilla chips on the side, but I have to admit we found the salsa verde and pico de gallo (or salsa fresca) a little bland. There was also a sour cream and a more impressive salsa roja which, despite the chilli heat warnings, wasn't terribly spicy, though still very tasty. All washed down with a bottle of Mexican Pacifico beer each, plus the side dish of tortilla chips, we would have spent under £20 for the both of us – not bad considering we were so full by the end we could have been rolled out.
I've been back to Tortilla since – to its Leadenhall Market branch in the City late in the afternoon – and considering how much I enjoyed the pork filling, perhaps I shouldn't have been surprised to find they had sold out. For what you pay and what you get, I'll not be surprised either if this Mexican wave keeps rolling on in the UK.