Thistle Hotel's head chefs (Martin Ng, Thistle Cheltenham) and one of the bar managers (Lorna Hardy, Thistle Glasgow) have put together some great Christmas cocktail recipes to help us make the moment merry. Both Lorna and Martin are part of the Thistle 'Know How Squad', which is the hotel's guest advisory panel who answer questions and give top tips to the public via Thistle Hotel's Facebook page.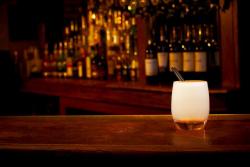 White Christmas
Ingredients: 50ml Irish cream liqueur .
25ml Amaretto liqueur.
50ml double cream.
50ml milk.
Method: Add all of the ingredients into a boston shaker half filled with ice and shake until chilled. Strain the mix into the glass and then dust the top of the mix using chocolate powder with a lighter held between the glass and the chocolate in order to get a toasted taste. Serve in a whisky glass.
The Grinch.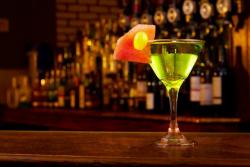 Ingredients: 50ml melon liqueur.
25ml vodka.
25ml grape juice.
1 lime wedge.
1 lemon wedge.
Dash Grenadine (optional)
Method: Muddle around 10 grapes in the boston shaker (grape juice can be used) along with the squeezed lime and lemon wedge before adding the rest of the ingredients minus the grenadine. ¾ fill the shaker with ice and then shake until frosted. Strain the mix into the martini glass and then pour in a dash of grenadine if preferred. Garnish the glass with a slice of melon and a grape. Serve in a martini glass.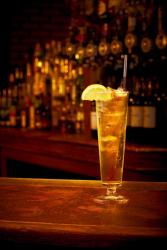 Frostbite
Ingredients: 1 ½ measures of bourbon whiskey.
1 measure orange liqueur.
1 lemon wedge.
½ measure of gomme syrup
Top up with lemonade.
Method: Add all of the ingredients into a whisky glass, squeeze in the fruit and then mix before adding crushed ice, or blocks of ice if crushed ice is unavailable, then top up with lemonade. Serve in a whisky glass and garnish with a slice of orange and lemon.