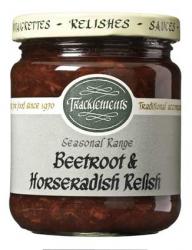 Who am I to question the wisdom of giving an Arab some Jewish pickle to review? Actually Tracklements Beetroot & Horseradish is more of a multi-purpose relish and I'm more of an Anglo-Arab, so let's proceed. I'm a big fan of accompaniments. I prefer to use the word accompaniments, rather than the word 'condiments', because 'condiments' is a rather stupid sounding word with pretensions of grandeur and therefore rather incongruous when applied to Hellmann's Mayo or Branston Pickle.
Tracklments is a bit more artisan, and before it arrives I imagine that it's one of those relishes that you might serve on a silver tray with a microscopic spoon. Next I wonder with what fine foods you might accompany a beetroot and horseradish relish. I muse on a few possibilities from my beetroot stable – goats cheese and, um, goat's cheese? I needn't have worried because Tracklements have obviously given the matter some thought, and, along with pairings such as smoked foods and roast beef, they have this suggestion:
'Another tasty treat is to pay homage to its Jewish roots and serve this vibrant relish alongside Gefilte Fish. Popular in the Ashkenazi Jewish community and typically eaten on Shabbat and holidays, Gefilte Fish are poached fish patties or fish balls made from a mixture of ground, de-boned fish, mostly carp or pike."
I'm sure that from this mouth-watering description we all wish we had some Gelfilte Fish patties with which to accompany our relish, but not having any to hand I decided to try it on a burger. The relish comes in a nice little jar that looks quite rustic and farm-fresh. It's bright red. The shredded beet has quite a sticky texture and is predominantly sweet with a bit of acidity, but after the sweetness comes the earthy, peppery heat of horseradish. The two flavours work well – the horseradish stopping the beets from becoming too sickly – but if you like you're relish with a bit more of a vinegar twang (Branston or Piccalilli) this might not be the one for you.
Tracklements have a great website evidencing a lot of genuine thought about their product range, which includes various mustards, chutneys and jellies (including my favourite, crab-apple jelly) made with produce grown on the Tracklements farm. There are some nice recipe ideas: Cheese, Tomato and Apple & Cider Brandy Chutney Tart; Lamb and Lentil Curry with Plum Chutney, plus details of worldwide stockists.
The website also holds the key to the Tracklements name, the origins of which I'd been pondering along the lines of ancient Hebrew. This from founder William Tullberg: 'I remembered my Lincolnshire grandmother using the word "tracklements" for meat accompaniments and it seemed such an appropriate name that we named the company "Wiltshire Tracklements."
This revelation ends my fanciful notion that the Tracklements farm is a kind of commune-come-sanctuary where scholars of Judaism turn their hand to food prep like the biscuit-baking nuns of Italy. In fact the Tracklements range takes inspiration from India (Bengal Pickle) to America (Sweetcorn Relish), and it's surely only a matter of time before an Arabic accompaniment makes the grade.
NEW Beetroot & Horseradish Relish can be found in speciality delicatessens, butchers and farm shops as well as online at www.tracklements.co.uk. A 220g jar costs £2.50.